Background information
Timmi Office is Lucca's telework and flex office management solution. This sheet describes the main functionalities that allow you to enter your workplace and to know the workplace of other collaborators.
General information
Timmi Office offers two main views for the collaborators:
the main view, which highlights the search for and entry of one's place of work
the planning view, which allows the user to consult the location of an entire department (or several departments)
These two views can also be used on smartphones and tablets (pending a future dedicated mobile application).
Enter your workplace in one click
Timmi Office allows you to tell your colleagues where you work from, in two ways:
in one click, using your typical week, to be filled in beforehand in your preferences (top right) ;
or day by day.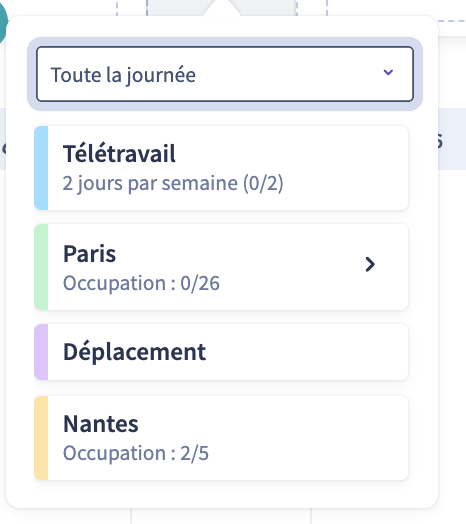 If a site is divided into zones, as in the Paris example above, you can choose the zone in question in the next step. A zone corresponds to a shared office, an open space or even a small floor.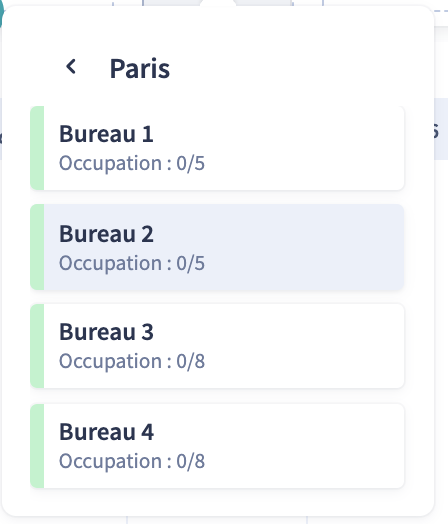 Set work locations on behalf
In role management you can modify the scope of the "Set work location" permission. We recommend giving the scope "All departments" to administrators only, and possibly "Supervised employees" to managers.
View the location of my colleagues
By clicking on the "Where are your colleagues?" button at the bottom of the page, you can access the planning view. By default it is filtered on your department, but you can change the filter. It is saved for your next visit.

It is always possible to fill in your work location on the planning view, this is particularly useful to take into account your team before deciding.
Approval of requests
Depending on the configuration and your telework policy, you may have a limit on the number of days entered per week, per month or per year. Once the limit is reached, requests beyond the limit are subject to manager approval (notification by email, and soon by Slack and Teams).
A telecommuting day awaiting approval appears in white with a blue outline.

On the left, approved. On the right, pending.
By default, telecommuting days entered within the limits are not subject to approval.
Occupancy tracking, flex office and overbooking
If the different workplaces have a capacity entered, then it is possible to track occupancy. This is for example the case if you practice flex office.
When entering the data, you can see the occupation of the different sites directly in the interface.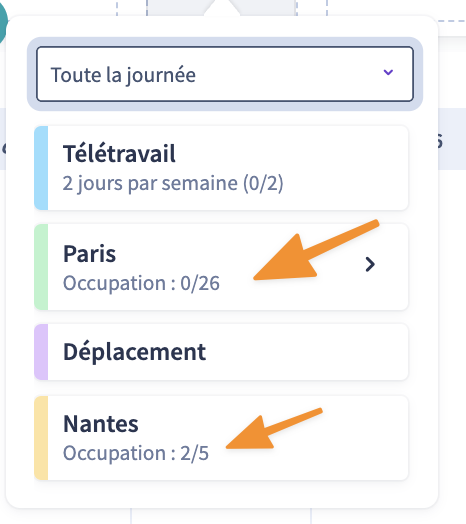 When a site is full, you can still enter your presence, but an alert is displayed asking you for confirmation. It is your responsibility to make arrangements if you need a place. We know that there are many special cases, which is why the entry is not blocked. Employees who are overbooked can be seen in the detailed view of attendees at each location.
You can see the occupancy of the different sites at a glance by clicking on "View site occupancy" in the main view or the planning view.

By clicking on the occupation of a given day you can access the details of the employees on site that day, with their department, establishment and zone (if the site is divided into zones).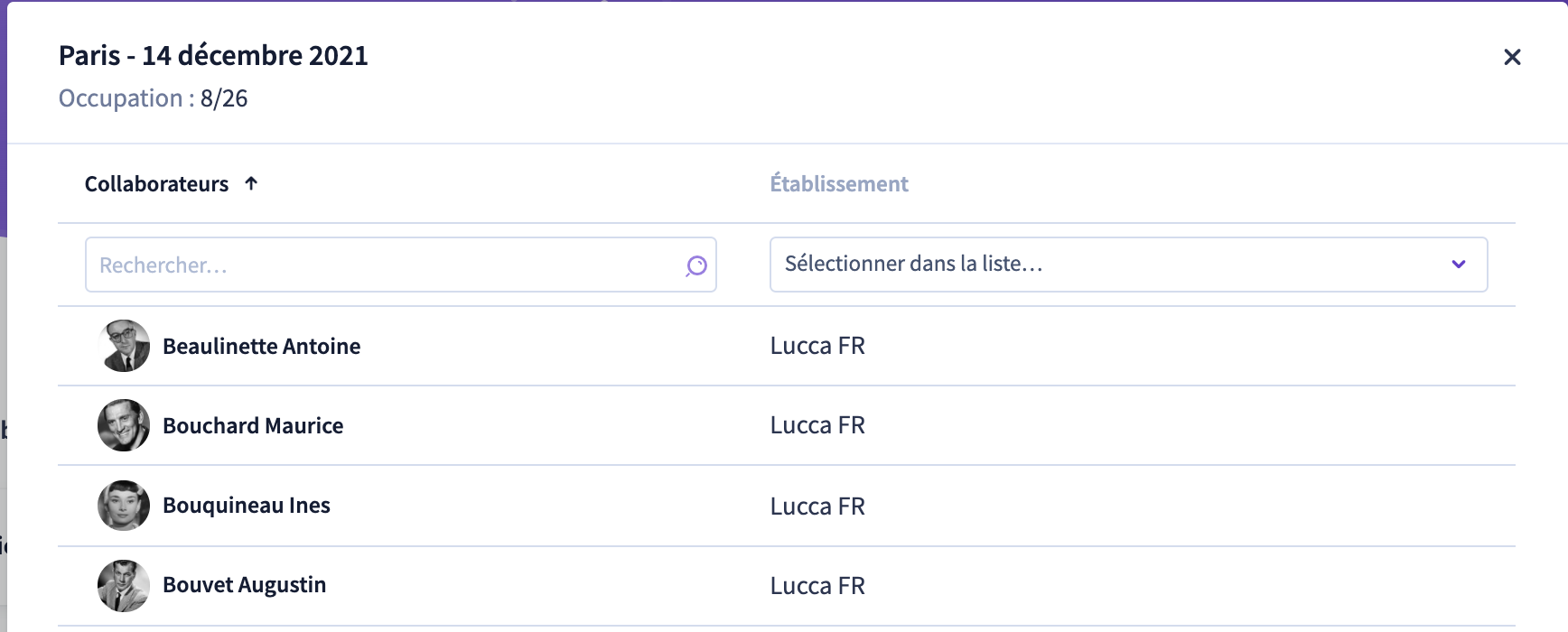 Input reminders
If you use Slack or Microsoft Teams, a weekly reminder is sent on Friday at 3pm, if you have not filled in all or part of the following week.
If you don't see a reminder, let your HR manager know, it is possible that the integration with Slack or Teams is not configured.

Display in the calendar
Your location will show up in your Google or Outlook calendar if the integration has been configured. This is especially handy for scheduling your upcoming appointments. If you don't see these events, talk to your HR manager.

More features are in the works and will arrive in 2022. Submit your ideas on our product portal.