Beforehand
In Timmi Absences, you may write your company leave policy, displayed in the Request leave page of each co-worker. In this article, let's explain where and how to define the rules of your leave policy, and how they will be displayed. 
Define your leave policy
In Configure > Preferences > Leave policies, visible to users with the Setup permission, you may view and edit leave rules in your company.
To define your leave policye, you may use two types of rules: for a population or for a leave account.
A rule for a population applies to co-workers in both the selected legal entities and departments. When you choose a specific department, the rule will also apply to co-workers in the sub-departments.
A rule for a leave account applies to co-workers in the statutories to which the account is linked.
Creating of editing a rule for a leave account is only possible with a global role (with access to all legal entities).
Create a new rule
To create a new rule, click the button Create a rule.

You have a WYSIWYG editor to format your rule. You may add links to redirect to your internal documentation.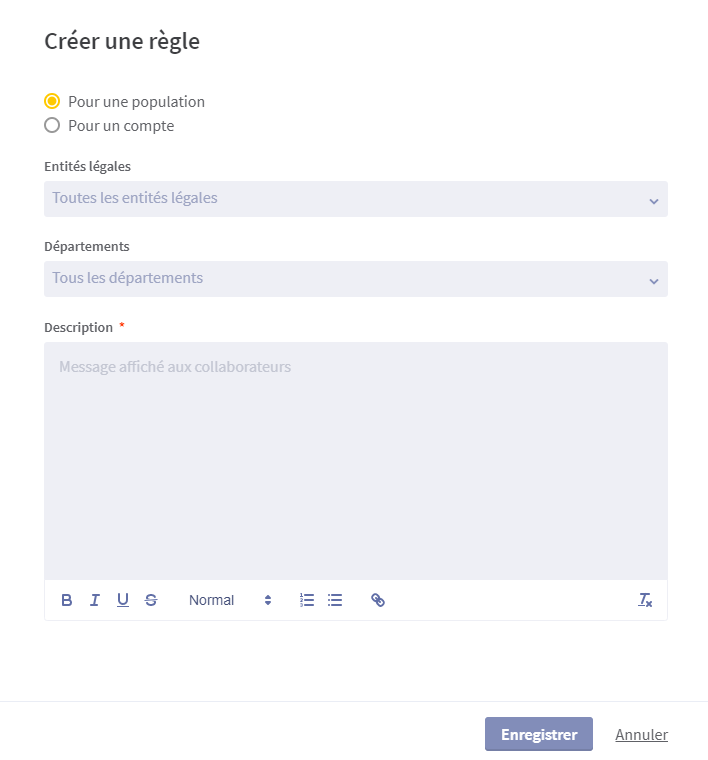 Edit an existing rule
When clicking a rule, you open the form to edit the rule. Update the information, then click the Save button at the bottom.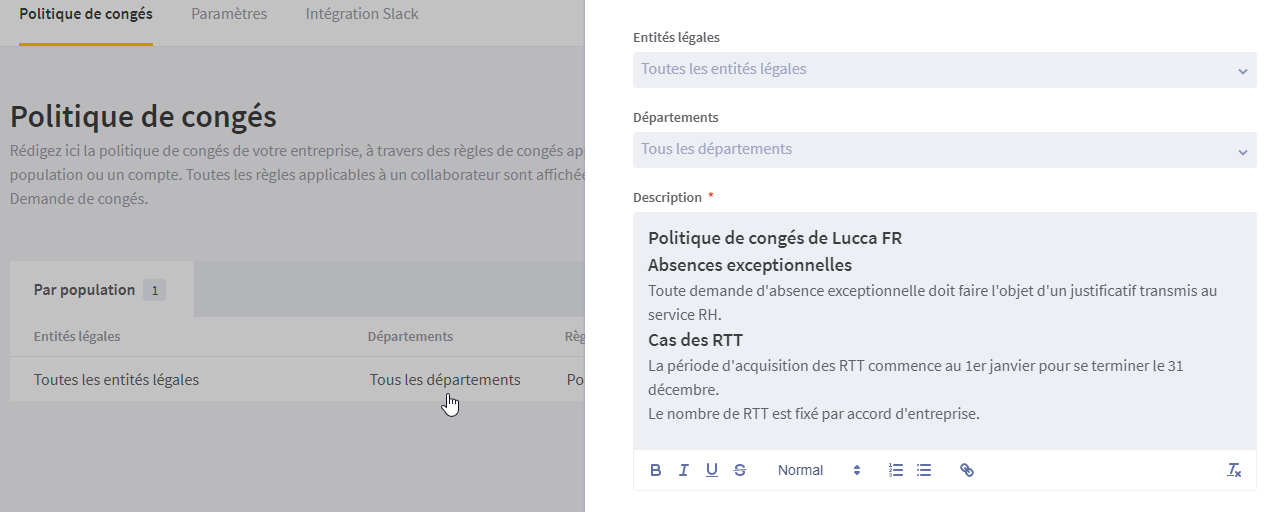 Delete a rule
In the table, the bin icon allows you to delete a rule, after confirmation.

Display leave policy to a co-worker
In the Leave request page, a co-worker can access the leave policy, through the dedicated link. When no rule applies to the wo-worker, the link is not shown. 
The window Leave policy, displays all rules applying to the co-worker, first with the population rules (from general to particular), then with the leave account rules (sorted by alphabetical order).