Introduction
This article details how to set up the approval workflow in Timmi Timesheet.
Set up the approval workflow
The workflow settings can be found in Configure > Workflow.
You can add a new approval step by clicking on Add a new step.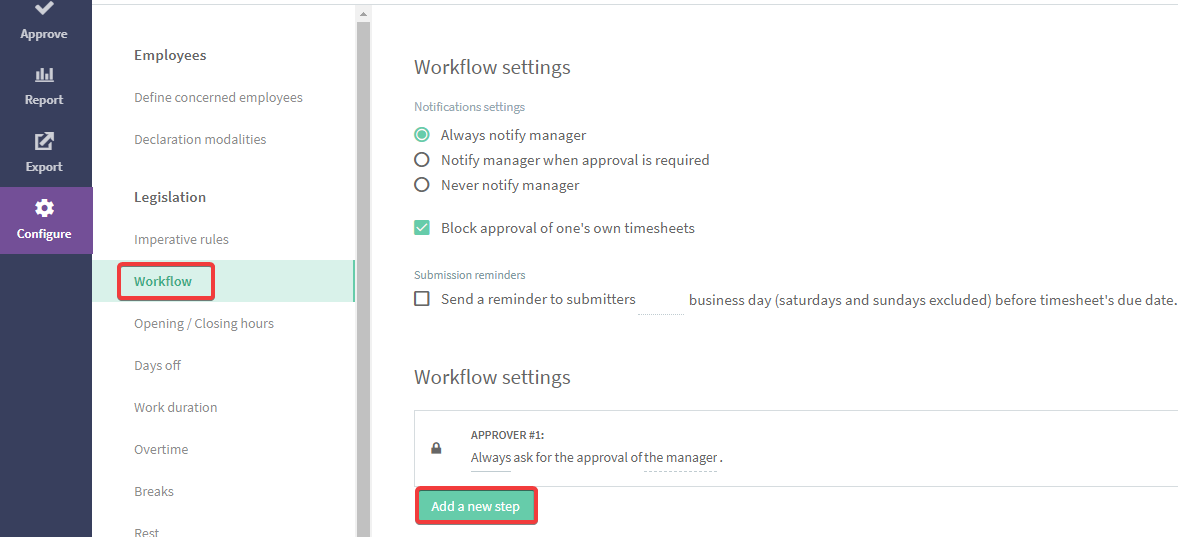 For each step, select an approver and a condition.

The first approver must be the manager (the manager is set up for each declarant in his/her user file). 
Approver
The approver of a step can be:
the manager's manager
the departement head
a specific user
the timesheet approver
If a step requires the approval of the timesheet approver, a new field will appear in users' files so that you can enter the timesheet approver of each user.
Condition
You can select on which condition the approval will be required:
always
only when pay elements were accounted for
only when alerts were triggered
when pay elements or alerts were accounted for
How does the workflow works?
If the condition of a step is not true, the approval is not requested, and the step is automatically approved.
If there are other steps, the workflow goes on. While all approval steps are not completed, the timesheet has the status "pending approval".
Once the last step is completed, the timesheet gains the status "approved".
For example, with the workflow below, a timesheet will first require the manager's approval, and then will require the approval of the manager's manager's only if time was accounted for in one or several time accounts.
You will find the history of a timesheet's approval in the Submit module, by clicking on the clock in the top right corner.