Background information
During your day-to-day use of Timmi Absences, you may find that you have some questions about how to use the tool. We put together a list of our clients' 5 most frequently asked questions. This article will cover the following points:
Why can I no longer use an absence account even though I still have days on it?
Absences accounts are fully configurable in Timmi Absences. Each 'recurring' absence type, like Annual Leave, RTT and Seniority, has an associated accrual period and a specific consumption period.
On the consumption period end date, you can authorise leave to be taken on the account (if the accrued days can be carried over), authorise with a warning or prohibit the leave from being taken. If you have days on the absence account but you can no longer use them, it is due to this last case: you lose the days after the end of the consumption period. You can change this setting. Click here for the help page on modifying an absence account.
How is part-time work deducted?
The full explanations can be found on our Deducting Days for Part-Time Workers help page
How are deductions made for working days?
All the explanations can be found on our Deducting Working Days help page
Why can't I request time off over an existing leave?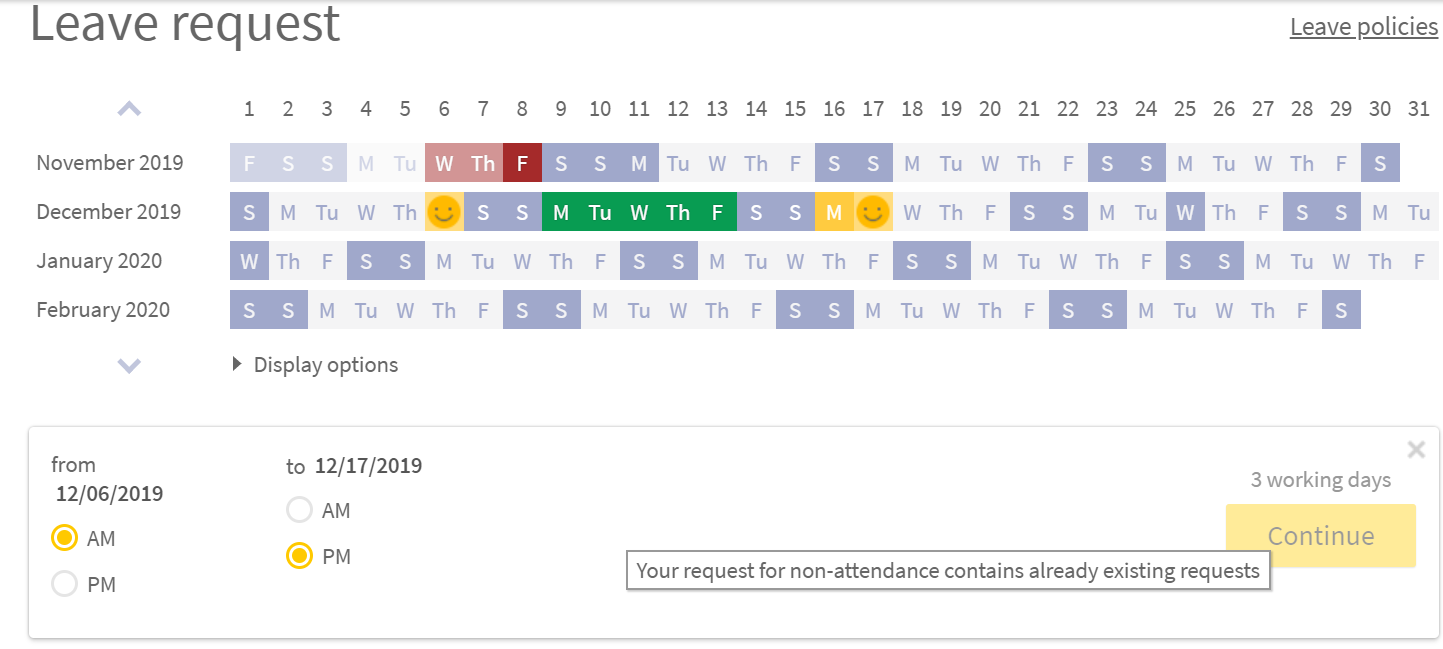 If an employee wants to replace RTT with annual leave, for example, the only way to do this from the 'Request leave' tab is to request cancellation of this leave (by clicking on the leave and then on 'Request cancellation'). The leave request will have to be recreated.
The Timmi Absences administrator can recategorise absences from the 'Manage the schedule' tab. When recategorising leave, they delete the previous leave and replace it with a new one. They select the employee's name, click on the relevant leave in the calendar and then click on 'Modify leave'. This allows them to select the new absence account. For more information on recategorising or deleting leave, please visit our help page on this topic.
Why can't the employee cancel a past request?
The employee can cancel any leave request made for a future date. They can also request to have the leave cancelled if it was already approved. However, any requests on past dates or today's date can only be cancelled by the administrator via 'Manage the schedule'.
If an absence request for one week begins today, it is considered 'past' because it has already started. Consequently, the employee cannot cancel it directly.
For more details, please visit our help page on this topic.
Find the answers to your questions in our help pages: