Background information
When an employee leaves, we are inclined to want to delete their user file. This page will help you better manage employees who have left or will soon leave the company.
Contract end date
When an employee leaves, best practice is to indicate their contract end date before they leave or, if you did not do this in the past, after they leave.
To do this, simply go to the Co-workers > HR file > Select the employee in question from the drop-down list > Contract section and enter the date for the 'End date' data.

After the selected date, the employee will no longer have access to the platform and will no longer appear in the Who's who or in the Timmi Absences Schedule, for example.
Finding former employees' files
If you want to access a former employee's data, you certainly can (if you have permission in roles): in the drop-down list, select the 'include former employees' box.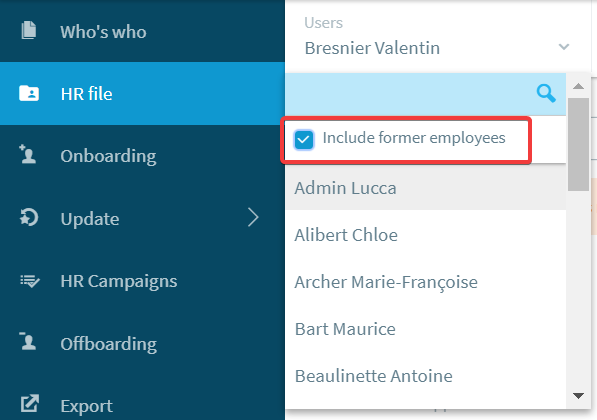 Right to Erasure Module
Since implementation of the 2018 European Directive on data protection, we set up a right to erasure module. You can view the corresponding page by following this link: Right to Erasure Module