Background information
If your company uses Slack, you can post every day the absentees in your team (or in the company) in a channel of your choice.
Set up synchronisation of absences in Slack
1. Add the LuccaBot to your Slack space
You need to be a Slack administrator to complete this step.
In Figgo > Configure > Preferences > Slack integration, click on Create a new integration, then Connect.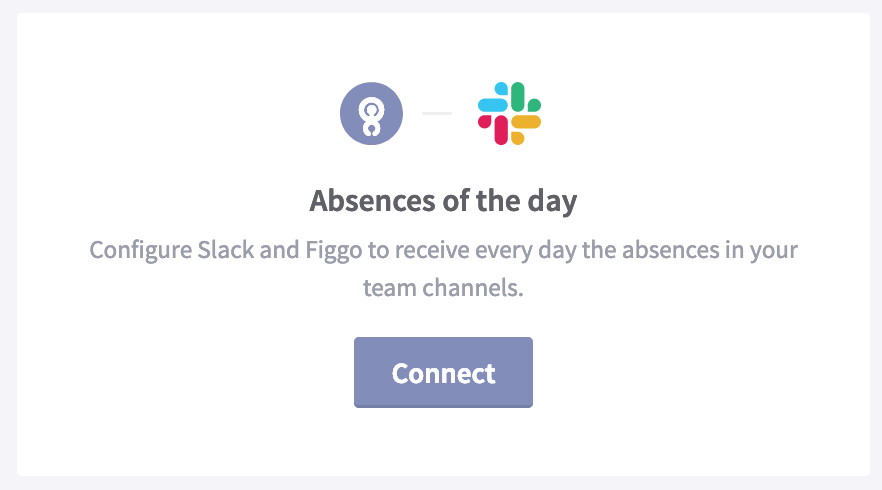 On the next screen, you need to authorise LuccaBot to post messages in your Slack space. These rights are needed for integrations to work properly.
2. Create an integration
Absentees of the day
You must create one integration for each channel in which you want to post who is absent that day.
Examples:
if you want to post everyone who is absent from the company in the same channel (for example #absent-today), you will only need one integration;
if you want to post the day's absences for each team, you will need to create one integration per team in their dedicated channel.
For each integration, enter:
the channel in which the day's absences will be posted (mandatory). The channel must exist. If you want to post absences in a dedicated channel, you first need to create this channel in Slack
the legal entity(-ies) and/or department(s) in question (this filters which employees are considered in the day's absences)
the language of the messages
the time the message is sent in Slack
the frequency (weekdays or 7 days a week)
After creating the integration, you can test it. This then sends a message in Slack with today's absences, without waiting until tomorrow.
You can disable an integration without deleting it.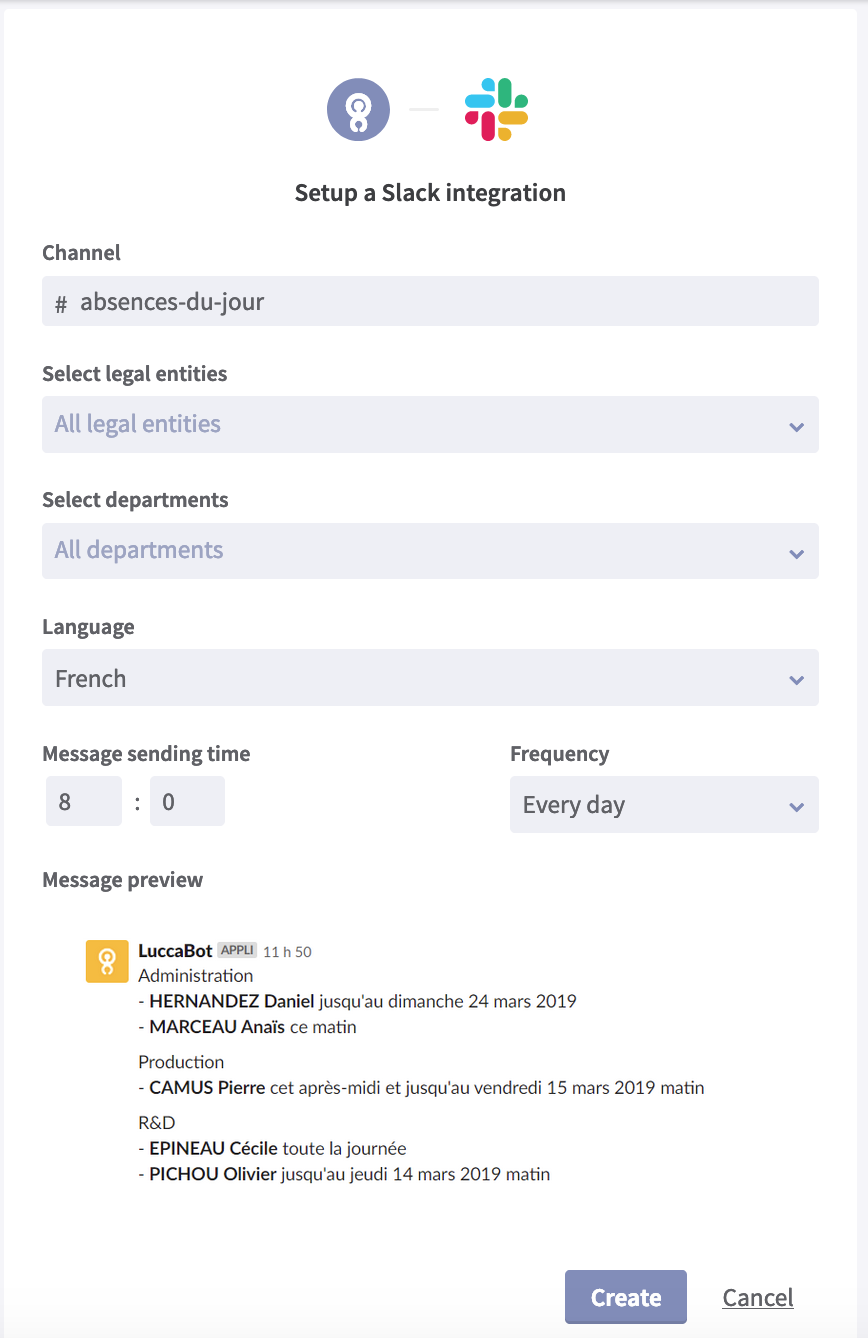 Status sync (beta)
Available with a Slack Pro plan or above.
This integration provide live updates of Slack status for employees who are absent or working remotely.
We do not share the absence details (sick leave, PTO or else) but only the status "absent" or "working remotely".
Status are updated 30 minutes before the start of the day (default 7:30 – based on the times in Settings > Preferences > Parameters).
For this integration you need to provide:
the legal entity(-ies) and/or department(s) in question
the language of the messages
the timezone
if remote work is to be included.
Slack approval (beta)
This integration provides direct notification in Slack for managers to approve leave requests.

Managers will receive notifications for each request or cancellation request, and they can approve or deny right in Slack. Employees are not notified in Slack.
Managers can disable Slack notifications individually in the Approval module, at the end of the requests list.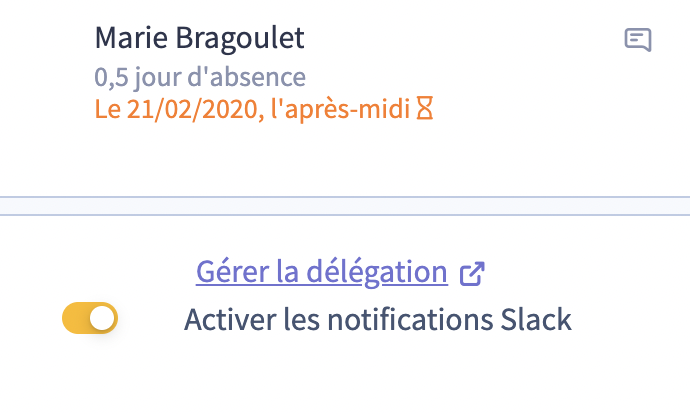 Email notifications cannot be disabled (yet).
FAQ
Can we post absentees in a private channel?
Yes. In this case you just need to add LuccaBot to the channel (/ command and select Add an app).
Can the bot's name or image be changed?
No, this information cannot be changed.
What languages are offered?
For now, we offer French, English and Spanish. If you want another language, you can submit the request to Lucca's help desk via the form at the top of the page, and we will examine it.