Background information
The qualifications module has been think to help you on your professions' organization.
Managed as any Poplee Core HR data, qualification is the combination of a profession and a grade.
Definitions: qualification, profession, fields and grade
A co-worker has a one and only one qualification.
Qualifications are defined by a label, a profession and a level.
As co-worken can have only one qualification, there only one qualification for a same profesion and level given.
Professions are the ones that you have identified in your company. They could refer also to your collective agreement or by a collective agreement.
Each profession is attached to a label, an activity field that we have built on the training needs services.
Grade is associated to an expertise, a level expected or seniority.
Grade can also help to describe the successive stages for evolving in a profession.
Why using qualifications ?
You might need professional qualifications for different reasons:
It is a legal requirement.
It can help to gain professional recognition in your co-worker's carrier.
It can guide your co-workers on their professional development.
Qualification may also help you on the salarial equity objectives for co-workers with same qualification.
Some advices and examples
If you are working on structuring your qualification, let's share some tips':
Start with simpliest grades to explain : junior, senior, expert, manager.
Create a list with your profession.
Do not hesitate to list an expertise track as another opportunity for your co-worker:
Profession: Developer (Expert)
Profession: Developer (Management)
Grade
Qualification
Grade
Qualification

1

Developer junior
1

N/A

2
Developer confirmed
2
N/A
3
Developer senior
3
Lead developer
4
Developer expert
4
Engineering manager
5
N/A
5
CTO
Qualification is different of the job title. The job title can be personalized for the visit card of the LinkedIn feeds.
Qualifications are a HR data for your simulation management of recruitments and competences.
Qualification is not a department.
The definition of profession therefore implies leaving the organization view of your company (entities + departments) to main focus on the identification of the skills groups required to evolve.
Managing your qualifications
The module for setting up qualifications is available from the cogwheel (Organization section).

The module is built as a table with:
On the x-axis, the list of jobs to be created and or managed in a specific work sector.
You can build a same profession for different work labels with levels and grades that would be different:
On the ordinate, the grades
The fields and grades are predefined and cannot be modified.
You can hide a stream by checking the box "Hide empty sectors" and ignore the grades if necessary.
At initialization, you will find some examples of qualifications, proposed by default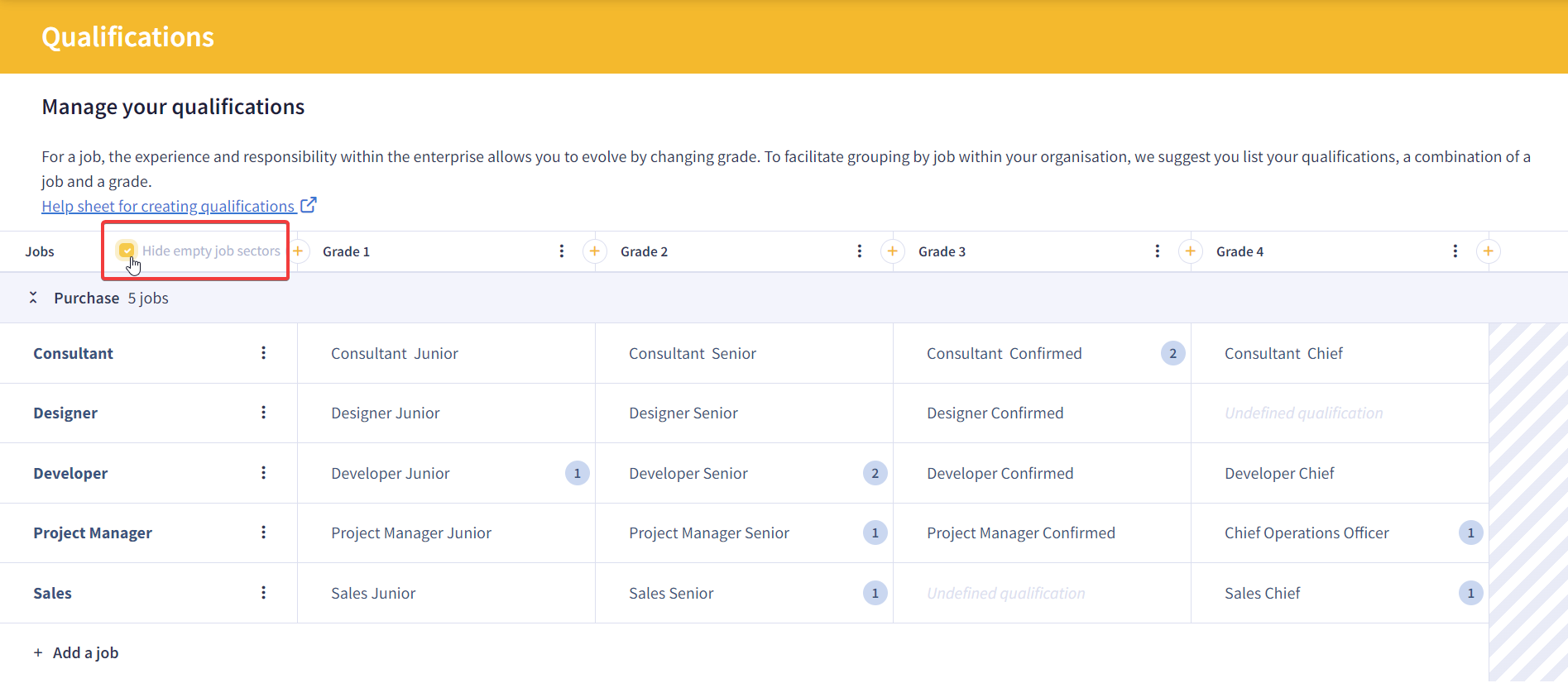 You are free to dispose of them by adapting or deleting them.
Managing the professions
You can create as many jobs as you want.
To create your jobs, open the pathway and click on "Add a job".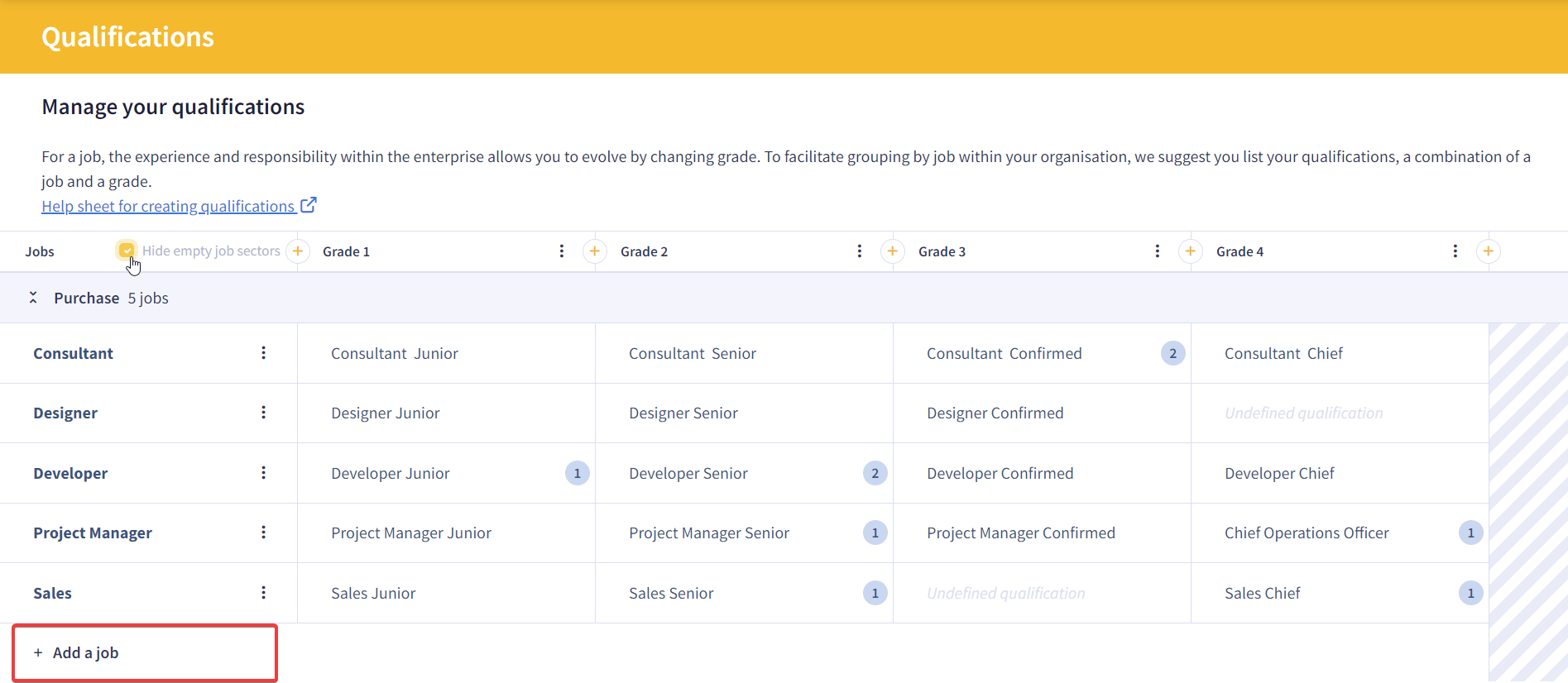 Each created job can be modified or moved to another track.
If you delete a job, you will delete the whole line of associated qualifications.
Please note that if you are a Timmi Projects customer, the deletion and modification of qualifications can have a strong impact on your project management and your standard grid. Do not hesitate to ask our support team to test your modifications on your test environment.
Administer your qualifications
You can customize the qualification with a wording reflecting the job & the level (grade).
FAQ
How to assign a qualification to each user?
Qualifications are a data manage trhought the Co-workers module.

Which products actually use qualifications?
Qualifications is a new concept proposed as a structuring concept.
Not all our Lucca applications are using it yet. With our futur Poplee Training software and Pagga Payslip compensations, you will ba able to better reports your data.
From now, only Timmi Projects with the management of tariff grids and the reports of Poplee user data (HR Dossier) require its initialization.
Why can't I see the qualification module in the cogwheel?
Access to the qualifications administration module requires a specific permission. To do so, from the roles administration module, add for the desired role the permission "Manage qualifications"