Background information
Qualifications interface is available from the cogwheel at the top right > "Organization" section > "Qualifications".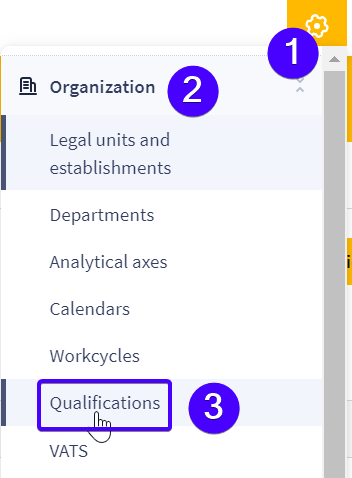 Qualifications are defined by a label, a profession and a level.
You must therefore first identify the professions, then the levels of each profession in your company.
Jobs (Professions)
The professions are generally defined on the basis of the skills defined by the collective agreement for your sector of activity or by a collective agreement. The professions must make it possible to identify as accurately as possible the functions performed by the employees.
Once you have identified your jobs, you can create them in Qualification Management > Jobs:

Levels
For each business identified and then created, you will then be able to determine the levels of evolutions that each business proposes. The levels specify, in most cases, the expertise of your employee, as here for example:
1 - Junior
2 - Confirmed
3 - Experimented
4 - Senior
5 - Expert
6 - Head of
7 - Chief
...etc
They allow you to list your employees in their job categories, according to different criteria:
Diplomas,
Seniority
A set of training to be carried out
An identified set of missions and responsibilities.
...etc
To distinguish them within your Lucca environment, a Levels interface is at your disposal:

Qualifications
That's it! You can now label the possible combinations of each job and level created from the Qualifications interface: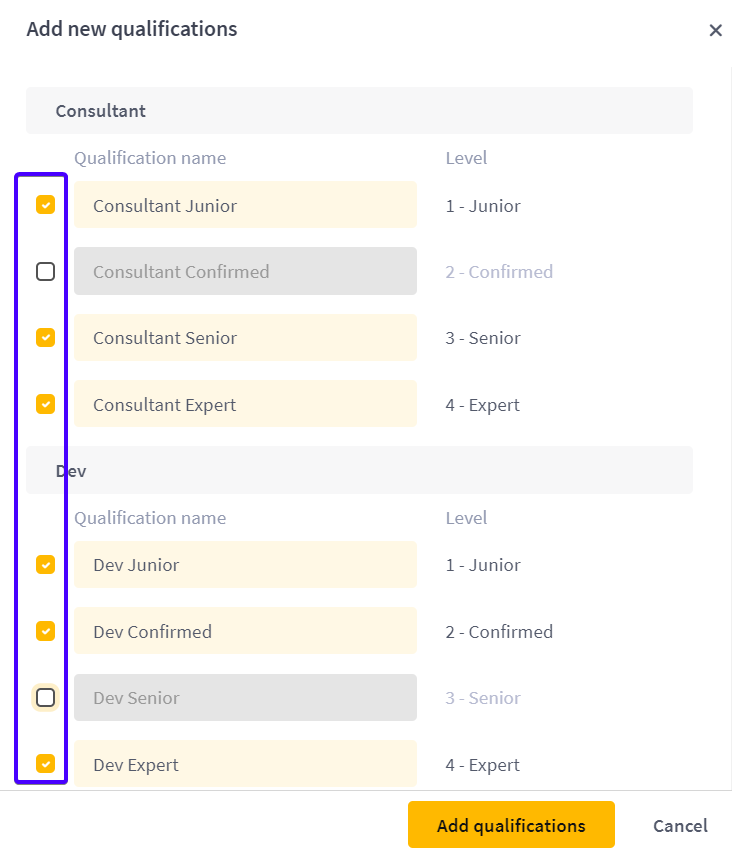 By default, the name of the qualification corresponds to the concatenation of the name of the profession and the level, but you can also enter it freely (for example, you can rename the qualification "Developer - Director" to "Chief Technical Officer").
FAQ
How to assign a qualification to each user?
Qualifications are a data manage trhought the Collaborators module.

Which applications actually use qualifications?
Qualifications is a new concept proposed at the heart of our Lucca environments as a structuring element.
Not all our Lucca applications use it yet.
As of now, only Timmi Project with the management of tariff grids and the reports of Poplee user data (HR Dossier) require its initialization.
Why can't I see the qualification module in the cogwheel?
The qualifications administration module is actually in Beta mode. The development of the module is completed, the implementation and the interactions with our applications are running.
We know that we can improve it and this thanks to you.
We will be attentive to all your feedback that you can share by writing to us at the following email: hub-lucca@lucca.fr