Background information 
The French "Loi Travail" (Law n° 2016-1088 of August 8, 2016) states that co-workers can access their dematerialized payslips at any moment even after leaving the company.
Pagga Payslip is the dematerialized payslips distribution solution developped by Lucca. It allows the co-workers to access their dematerialized payslips archives, as well as download them in just a few clicks.
Lucca undertakes to store all payslips distributed via Pagga Payslip solution for a period of 50 years, and guarantees their availability through the online service Pagga Payslip.ilucca.net for the same period of time.
Prerequisite
Please check that your personal email has been correctly entered in Pagga Payslip. To do so, please login to go to your Pagga Payslip interface and check out the information at the bottom of the archives section (or at the bottom of the page if you are on your first month of use).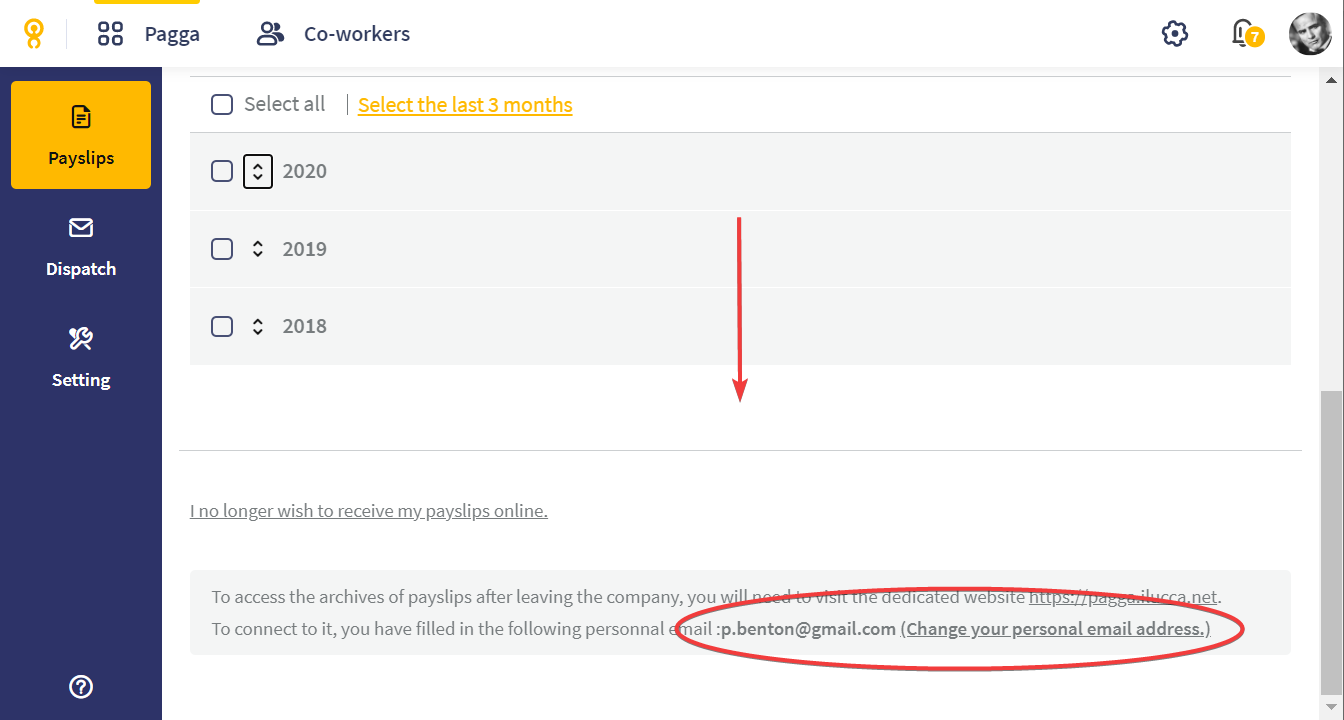 Step 1: Log in
Enter the 13 digits of your social security number (with or without the key of 2 numbers) and your personal email, then click on "Go to the next step"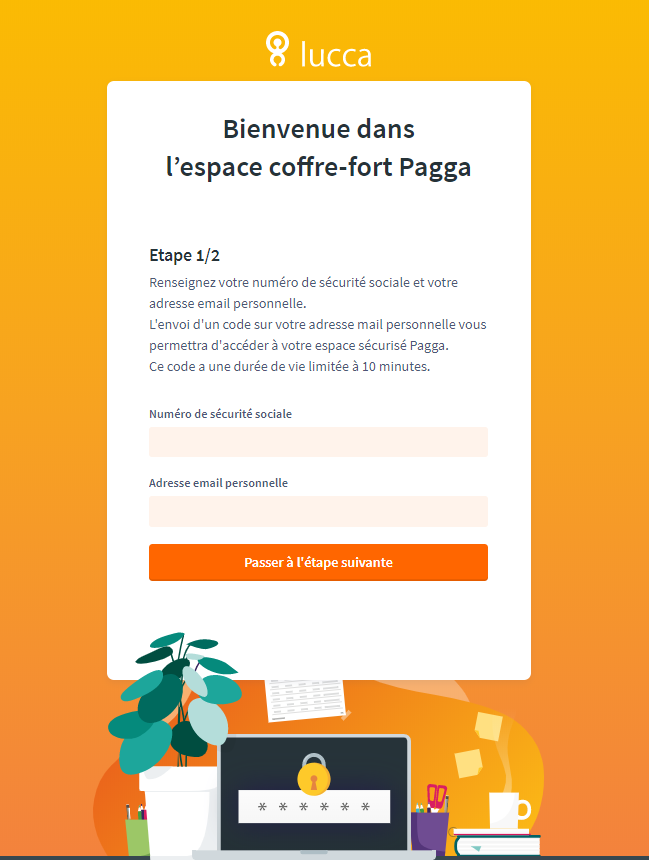 If you have changed your personal email since your departure from the company, please contact the HR administrator of your former company. They will check your identity and will give you access to your payslips.
Step 2: Retrieving the security code 
Retrieve the connection code generated by the Lucca verification service in your email. This code is valid  10 minutes only. You cannot request a new code in the 10 minutes following your last connection attempt.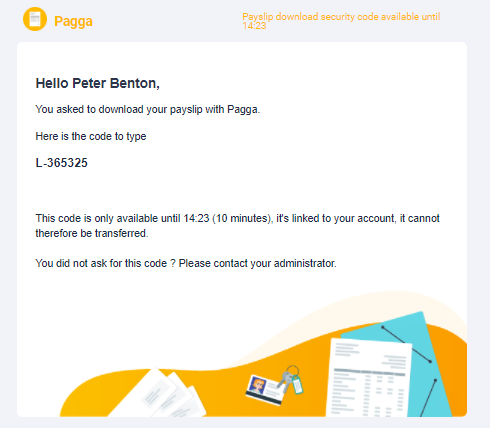 Enter this code in the confirmation window and click on the " Log In".  button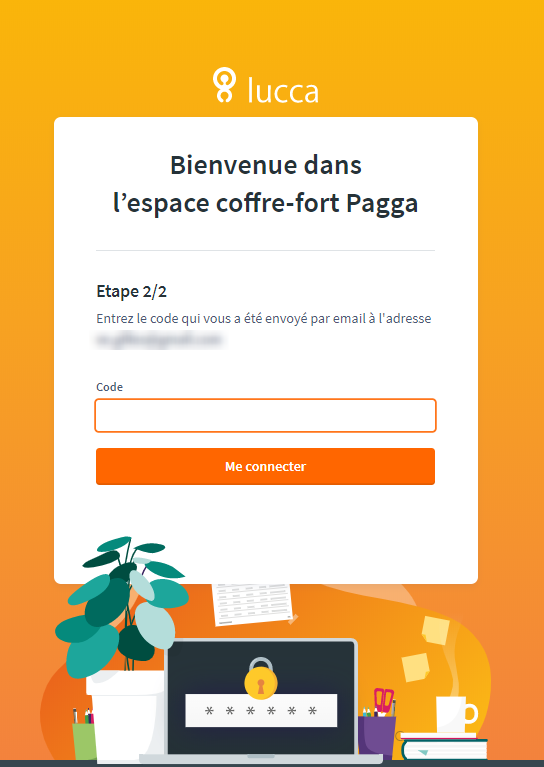 The records of your payslips dematerialized by Lucca are now accessible .
Accessing at my dematerialized payslips
Indicate the period you wish to consult and click on "Display".

You can access the list of the corresponding dematerialized payslips. Click on "Download " to launch the downloading of each payslip.
For safety purposes, the connection will remain active for 30 minutes.
Beyond this period of time,  you will need to login again by following the procedure detailed in step 1.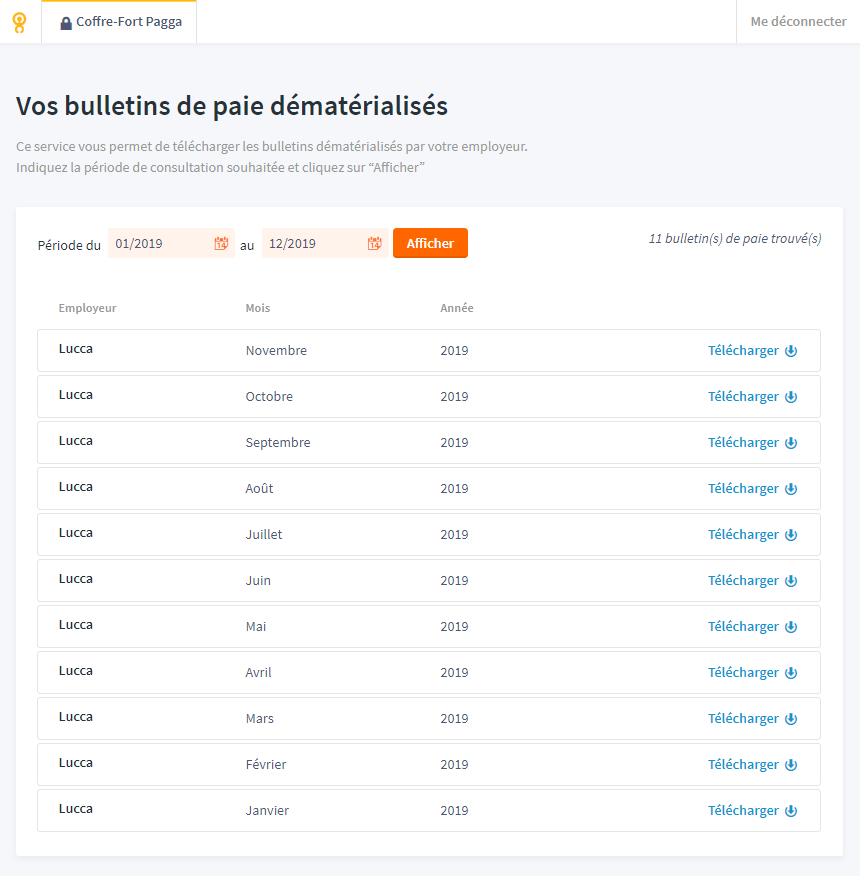 The "Sign out" link allows to go back to the authentication page.