Background information
Some absences (sick, parental leave, etc.) suspend employees' leave entitlements. You should temporarily freeze leave accruals in Timmi Absences for this type of absence so counters are up to date when the employee returns and leave entitlements match payroll.
Note: this method must be done manually as this is not automatically managed in Timmi Absences
Recommended method in Timmi Absences
First, you do not have to do anything until the end of the employee's departure month. Then at the start of the next month, you must suspend entitlement accruals.
Lastly, when the employee returns, the days accrued between their departure and suspension of entitlements need to be adjusted and accruals reactivated.
Example
Take the example of Peter Benton, who should not accrue annual leave or RTT during his sick leave, which starts on 16 September.
- the system is left unchanged until the end of September
- on 16 September, Peter's sick leave begins
- at the end of September, he will be credited for leave he accrued during the entire month of September
- at the start of September, once September credits go though, you must go into his user file and change his Timmi Absences application profile to Aucun droit / No entitlement to freeze the accruals

- at the end of September, Peter will have received more annual leave and RTT days than he earned, because he should not have accrued any between September 16 and September 30. To adjust these extra days, go to Credit/debit > Employee and debit the corresponding amount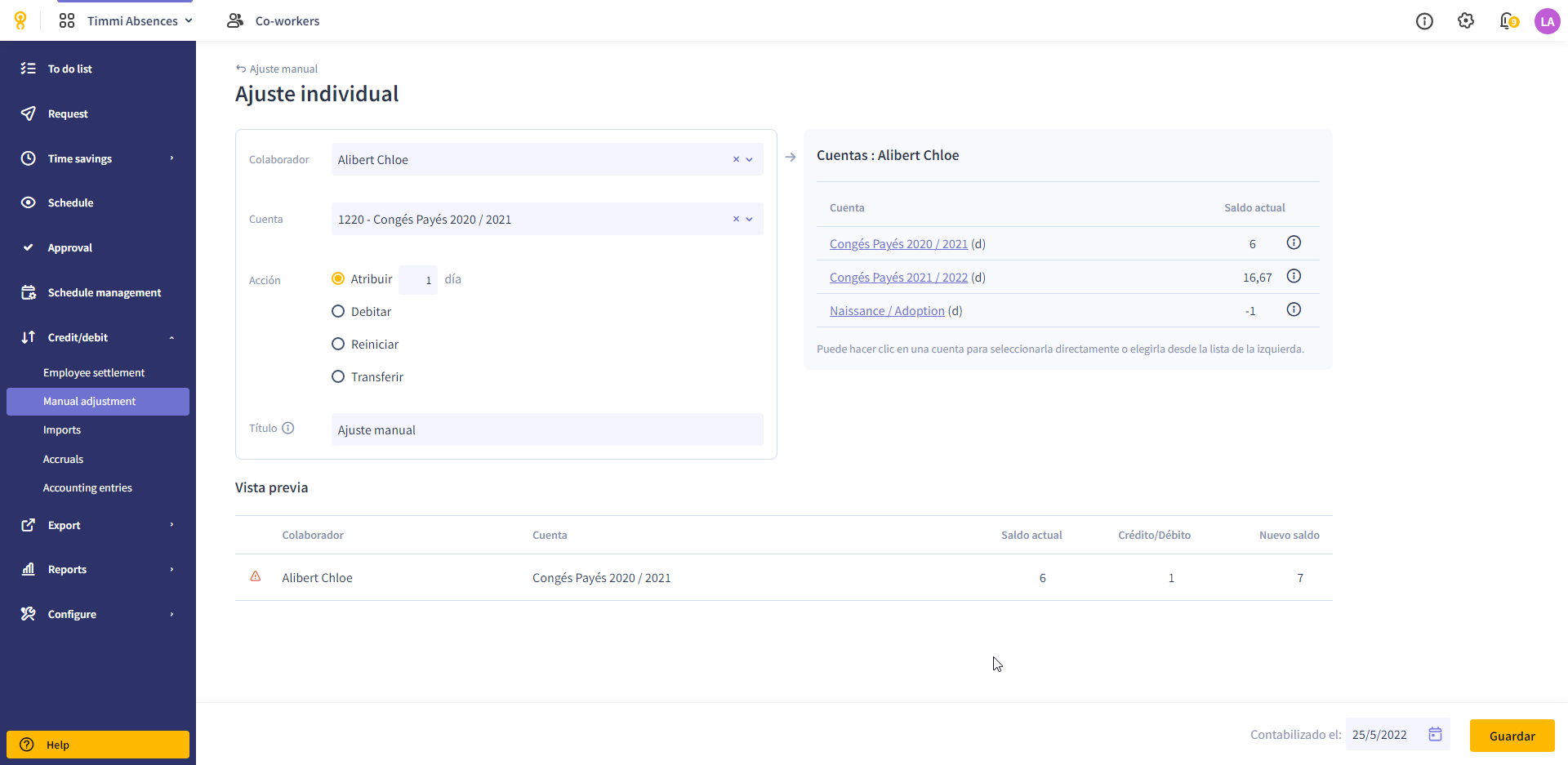 - when he returns, remember to restore the right Timmi Absences application profile! If he returns partway through the month, you will adjust the extra days the same way from Credit/debit > Employee.
Important: for maternity leaves, the employee will continue to accrue annual leave. You only need to change her accrual profile if it includes RTT. For example, if her accrual profile is '25 CP + 8 RTT' (25 annual leave + 8 working time reduction days), go to her user file and switch her Timmi Absences application profile to '25 CP' to freeze RTT accrual.
To adjust manual counters, if you have a lot of users taking long-term leave, we recommend you use the Regularisation module.
For information on which absences to consider when calculating leave, please visit this site.