Introduction
If you have a Timmi regulation in Activity submission mode, this article explains how to restrict the analytic sections so that only some users can enter time on them in their timesheets.
If you have Timmi Project, the analytics are managed in projects. Please refer to this article: Create or modify a project.
How to restrict the analytics
Click on the wheel in the top right corner > Analytical axes: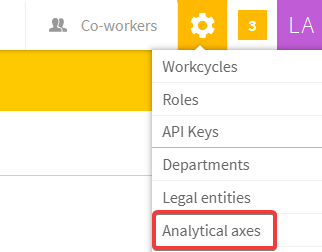 Click on an analytical axis, then on an analytical section (a value of this axis).
Choose the "Restricted" access. You can then restrict the access to this analytical section to legal entities, departments, or users, by clicking on the corresponding fields.
When you create a new Timmi user, remember to check that he/she has access to the analytical sections on which he/she needs to enter time!