Before you get started
The my account page is accessible from the navigation menu by clicking on the photo (or the initials). This page allows users to update some personal data and manage their preferences.

Public data
The "Public data" tab allows the user to edit the data accessible to their employees from the who's who. You can choose the data to be displayed in this tab from the dedicated settings module. To find out more on the who's who, open the dedicated help sheet.
On this first page, the user can also change the user language of the Lucca apps: all our interfaces are available in French, English and Spanish, and some solutions also offer other languages. English will be set by default if a solution is not available in the requested language.
Login data
The "Login Data" tab allows the user to change their password and generate a login code for the mobile apps.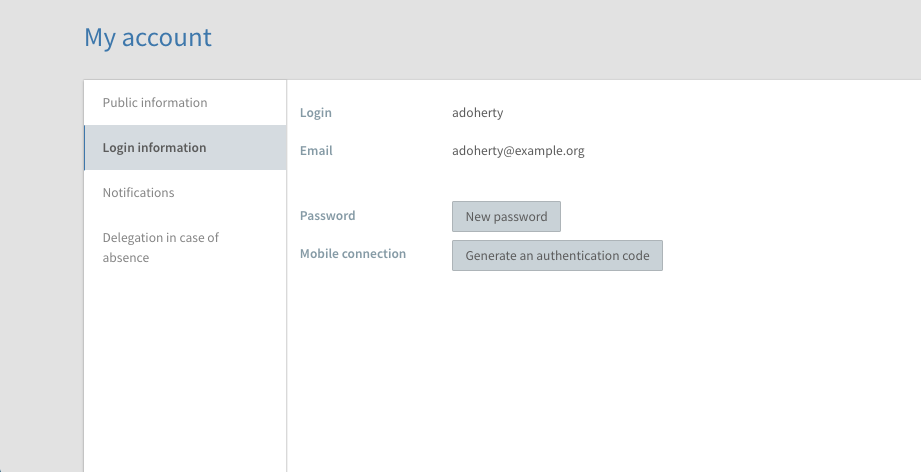 Notifications
The "Notifications" tab allows the user to manage the notifications and reminder emails of the various Lucca apps.
The emails will be sent from IP 5.135.54.201. Please whitelist this address on your server.
The user can activate the sending of reminder emails and specify the sending frequency (weekly or daily e-mail).
Delegation in the event of absence
The "Delegation in the event of absence" tab allows the user to activate/deactivate the delegation, choose their delegate and specify the delegation period (during their leave, permanently, over a predefined period).
Please note: The delegation is currently only taken into account for the Timmi Absences (leave and absences), Timmi Timesheet (working time tracking) and Cleemy Expenses (expense report) apps.

Delegation by establishment
As an administrator, it is possible to define a delegation scope so that users only have access to certain employees to delegate the approval of their expense claim forms, absences and timesheets.
To make this change, it is necessary to be an administrator and have access to the roles by following the procedure below: