The "my account" page can be accessed through the navigation bar by clicking on the user's photo (or initials).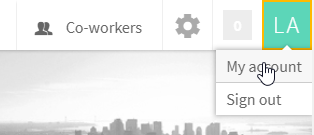 This page allows users to update certain personal information and to manage their preferences.
The "My account" page is organized into several sections:
Public information

Login information

Notifications

Delegation in case of absence
Public information
The "Public information" tab allows users to modify the information accessible by their coworkers or employees through their business cards. You can choose what information will be displayed in this tab using the business card configuration. To learn more, please consult the business cards support page.
You can also change your language here : your Lucca softwares are fully supported in French, English and Spanish, and some of the solutions are also available in other languages.
Login information
The "Login information" tab allows the user to modify his or her password and to generate a login code for the mobile applications.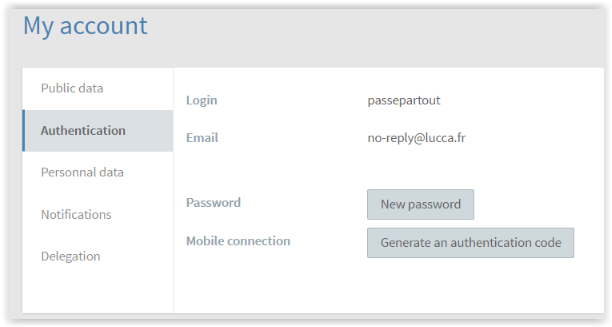 Notifications
The "Notifications" tab allows the user to manage notifications and reminder emails from different Lucca applications. The user can activate email reminders and specify email frequency (daily or weekly).
To learn more about reminders, please consult its online support page.
Delegation in case of absence

The "Delegation in case of absence" tab allows users to activate/deactivate delegations, to choose their delegation, and to specify the period of the delegation (during leave, permanently, or for a predefined period).
Please note that delegation is currently only available for the Timmi Absences (leave and absences), Timmi Timesheet (work time tracking) and Cleemy Expenses (expense reports) applications.