The homepage, which is available free of charge, merges each user's most relevant information and provides shortcuts to the most used features of each solution.
This customizable page with be a new ally for your internal communication: you can add your logo, personalize it with your company's color scheme, and change the cover photo with every company milestone.
Activate the Lucca homepage
If you wish to activate the homepage for your company, please contact our support team.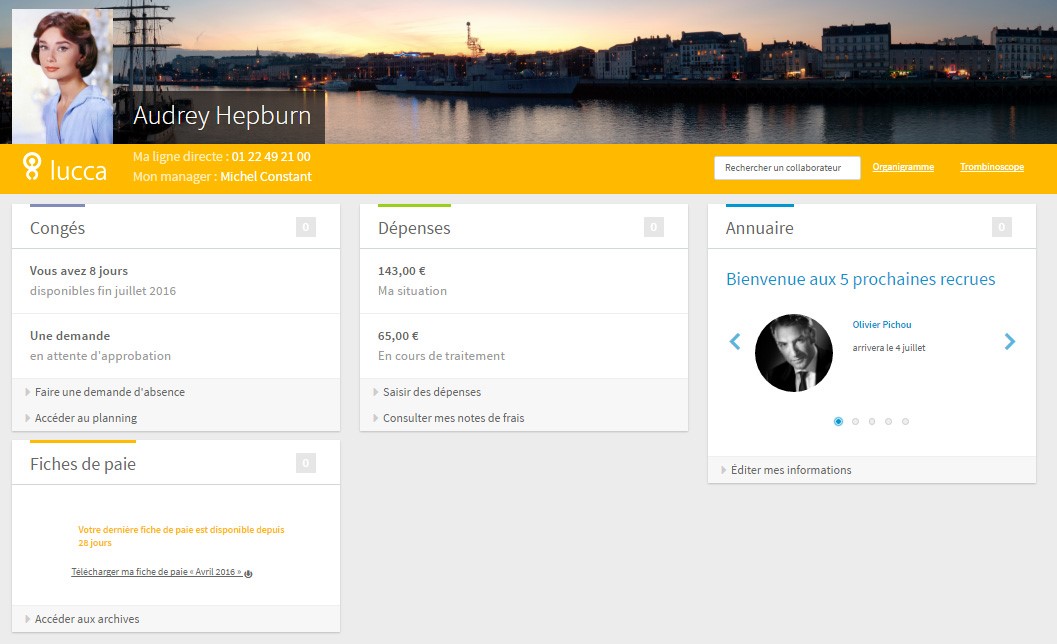 Once it is activated, every user will have access to the homepage. We will learn how to personalize it by legal entity later in the article.


Giving permission to customize the homepage
Using Admin > Roles, to give permission to a particular role (in this case "administrator") in the Lucca application, activate the "Modify the UI of the homepage" permission.
NB : if you do not have access to Roles, please contact our support team à support@lucca.fr.
Once the permission is activated, the user will have access to the personalization palette from the homepage (https://yourcompany.ilucca.net/home). This paint palette will appear when the mouse hovers over the cover photo.

To customize the homepage:
Click on the palette

A personalization module will open up between the header and the application boxes
The homepage's personalization templates
The homepage can be customized differently according to legal entity thanks to the "templates." By default, only one template exists which is the same for every legal entity, but you can create new ones from the personalization menu by clicking on "New Template." Each new template can be used for a legal entity.