Background information
When the manager is on leave, delegation allows you to assign leave requests to a person who is not the employee's manager either over a specific period or permanently.
The delegatee is the person who approves the request, but the manager always has the option to approve requests submitted by employees they supervise. Both the manager and the delegatee receive the email notification.
This article covers the following points:
Activating delegation
Each manager can activate/deactivate approval delegation from the Approve module by clicking on 'Delegate my approval rights'.
They can choose the delegation period:
during my holidays: leave requests from employees during the manager's holidays are assigned to the delegatee
permanently
over a specific period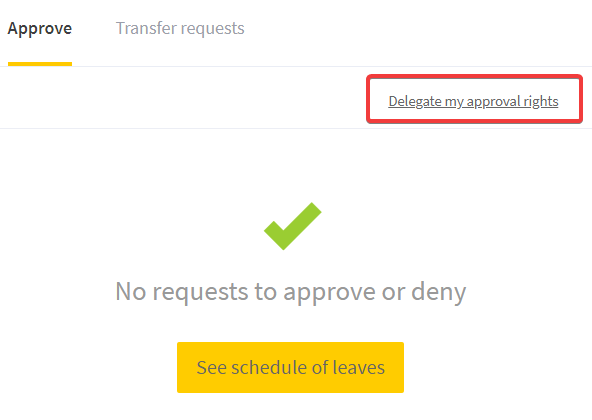 Approval delegation is shared by our other solutions. For more information, please visit our
help page
on this topic.
FAQs
How do I set up delegation if I want to define two managers for an employee without requiring approval from both?
You must define a manager for the employee and then a permanent delegatee for the manager.
In this case, the manager and the delegatee are both notified of leave requests and both (or one of them) can approve these requests.
If the manager delegates to an employee they supervise, the latter cannot approve their own requests.
When the manager comes back, are delegated requests returned to them?
The manager will always have access to requests sent for their approval via Timmi Absences's Approve tab. The delegatee will also continue to have access to this approval, but in their Approve tab they will see that these are requests for the manager to approve.