Choosing Cleemy's payment features
To learn more about Cleemy's payment module, please consult the following articles: "Payment of expense reports with Cleemy" and "Payment module."
Cleemy allows expense payments to be separated from the export of accounting entries. In this case, you can use the payment module to choose which expense reports to reimburse at any give moment.
Using the payment module allows you to retrieve either:
SEPA files to integrate with your online bank or your banking communication software
or
CSV listings containing miscellaneous information about employees (most notably their payroll ID number) and the amount of their reimbursement.
Cleemy then calculates all the amounts to be paid and the possible regularizations to be performed.
Alternatively, you can use the "Payment via accounting export" mode. In this case, you can directly balance your employees' accounts from accounting to proceed with expense report reimbursements.
With this feature, Cleemy automatically generates payment entries using exported expense reports. You can then choose to integrate them in your accounting export by configuring your export format.
This choice can be made independently for each legal entity using the Configuration > Payments interface.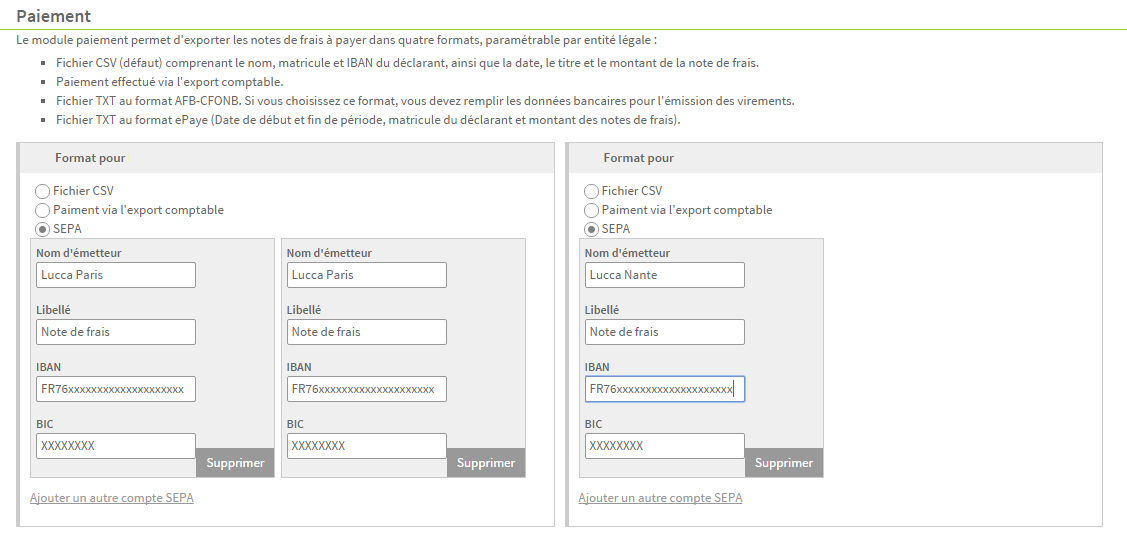 If you choose the SEPA mode of payment, you must provide IBAN and BIC information for at least one bank account from which transfers will be sent.
The "Add another SEPA account" link allows you to define several sending accounts for the same legal entity. Cleemy will ask you which one you would like to use upon the creation of a payment.
Other configuration options
In Configuration > Parameters, you will find two more important options concerning the payment module's performance:
The number of days for a "Payment pending" indicates to Cleemy the delay that is should apply after a payment has been made in order for the expense report to move to a "paid" status.

"Control before payment" allows you to authorize or to not authorize the payment of expense reports that have not been controlled. This configuration does not have an effect if you use the "Payment via accounting" mode, given that an expense report must be approved and controlled before being able to be exported.