Background information
The Timmi Absences mobile app for Android and iOS allows you to submit leave requests and, for managers, approve requests. You can directly download it from the App Store or Google Play by searching for the keyword ' Timmi Absences'.
The mobile app does not work in offline mode as it requires server access for real-time data retrieval.
This article covers the following points:
App features
The Timmi Absences mobile app is intended for employees and their managers. We retained the basic features that represent the main ways it is used by these populations.
Requesting leave: you can change Timmi Absences's suggested allocation of days on the various leave counters, which fully matches what is suggested on the Desktop version.
Cancelling or requesting cancellation of leave
Accessing the number of days available at the end of the month shown: this number of days considers the days that can be used on this date (with or without alerts)
Approving/denying leave requests for your supervised colleagues: the mobile app shows you other absent employees from the same department
Logging in to the mobile app
The first time you sign in, the mobile app will show you a quick presentation before taking you to an interface where you can enter an email address.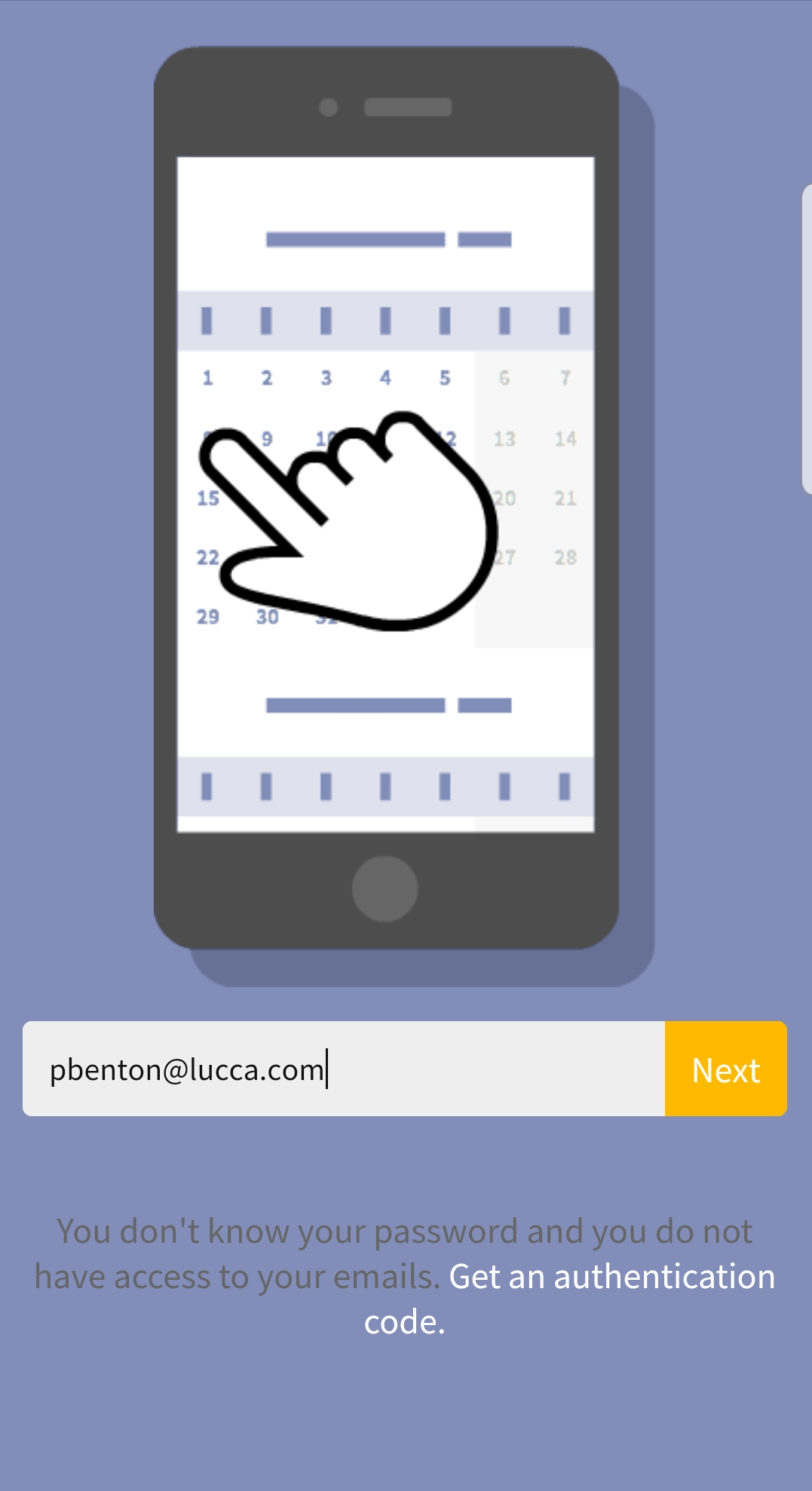 Once you have entered your email, you can choose between two login methods:
Retrieving an authentication link by email
Entering your password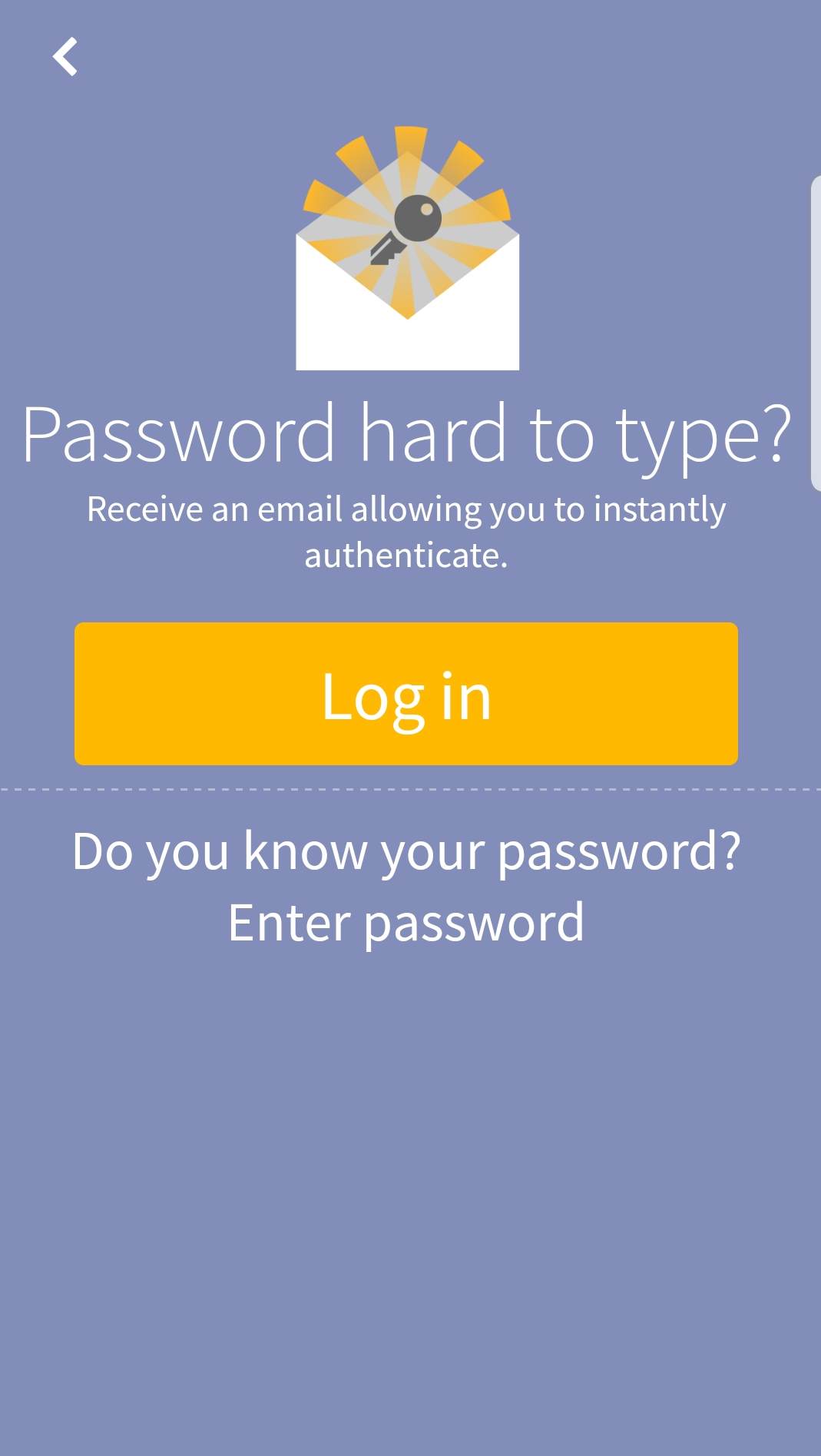 The ''Log in' option is easiest: when you click on this button, you will get an email. This email contains a button that allows you to connect to your Timmi Absences user account to your smartphone.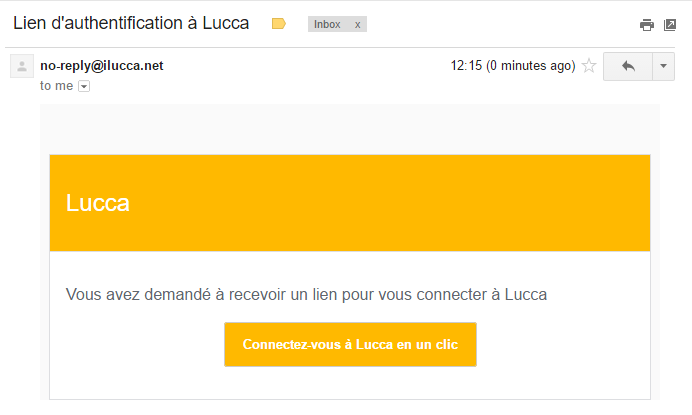 If you cannot access your work emails on your mobile phone and you do not know your password, you can log in using a 6-digit code.
In any case, your mobile app will keep you signed in as long as you use it regularly. After two months of non-use, you will have to re-authenticate yourself.
For training or demo accounts, you will be required to log in using a 6-digit code.
Logging in using a 6-digit code
An alternate login method involves entering an authentication code that you can retrieve from your Timmi Absences user account using a computer or your smartphone's browser. You only need to do this once!
Download the Timmi Absences app onto your mobile phone from the app stores (Google Play, iTunes).
Log in to Timmi Absences using your web browser.
At the top right of the interface, in the navigation bar, you will see your initials or photo: click on this and go to the 'My account' menu.
Your user preferences appear. Go into the 'Login information' menu and click on the 'Generate an authentication code' button. A 6-digit code appears. It will be valid for 15 minutes.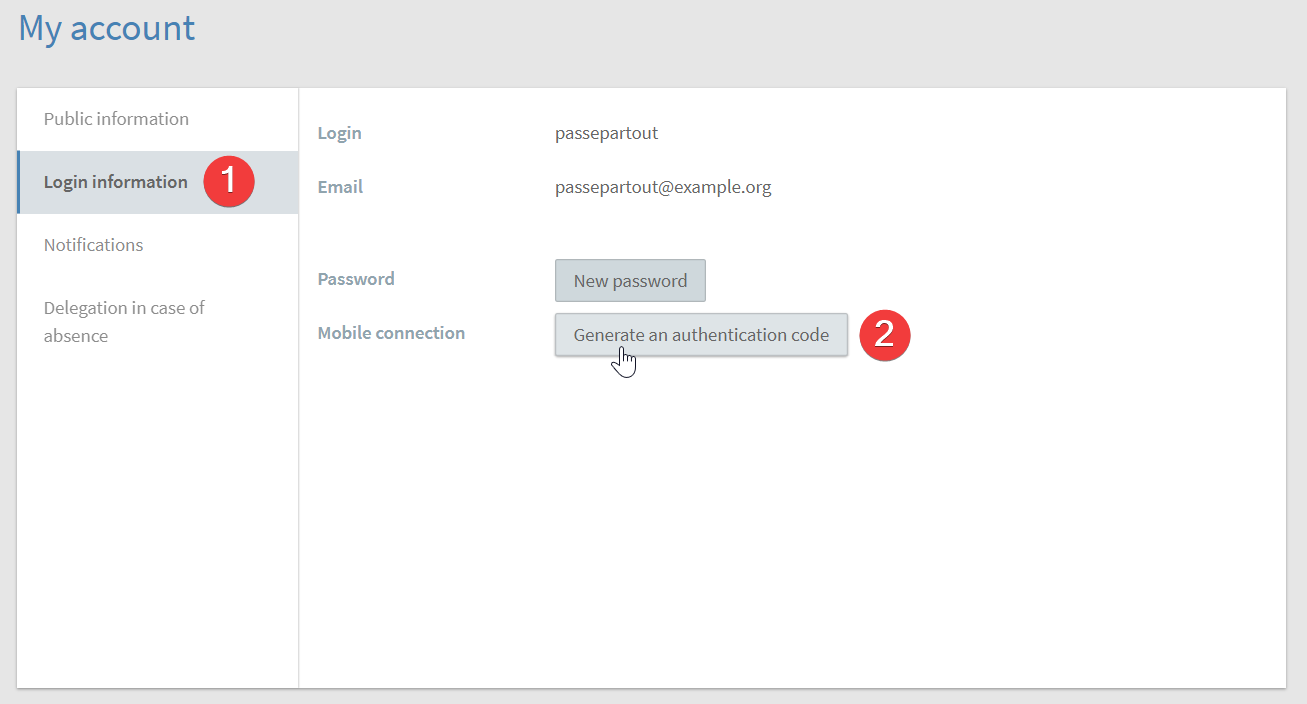 5. Launch the app: after a few welcome messages, click on ''Get an authentication code'.
And that's it! You can now use your mobile app.
If you do not use your mobile app for more than two months, you will have to log back in using the same steps. So, in practice, you will likely never have to sign back in.
Submitting a request
You can request leave by selecting a single day or a leave start date and end date on the calendar. Timmi Absences determines the best possible recommendation depending on how many days are available at the end of the month of your request while following your company's management rules.
For example: to request leave from 12 to 15 November, you click first on November 12 then on November 15.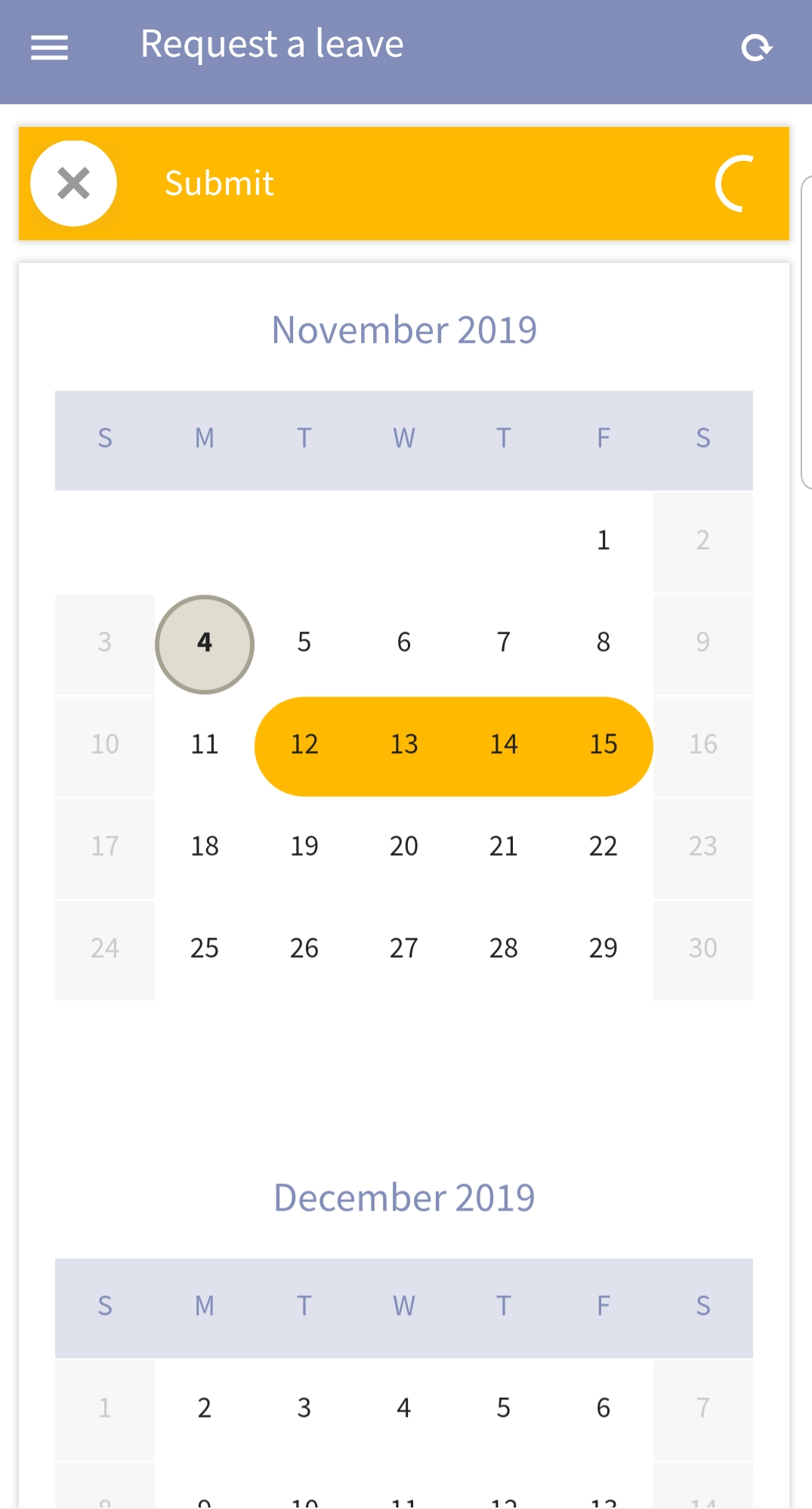 Timmi Absences suggests you use 4 Annual leaves - monthly 2019 days. If you want, you can change this suggestion by clicking on Change at the bottom of the screen.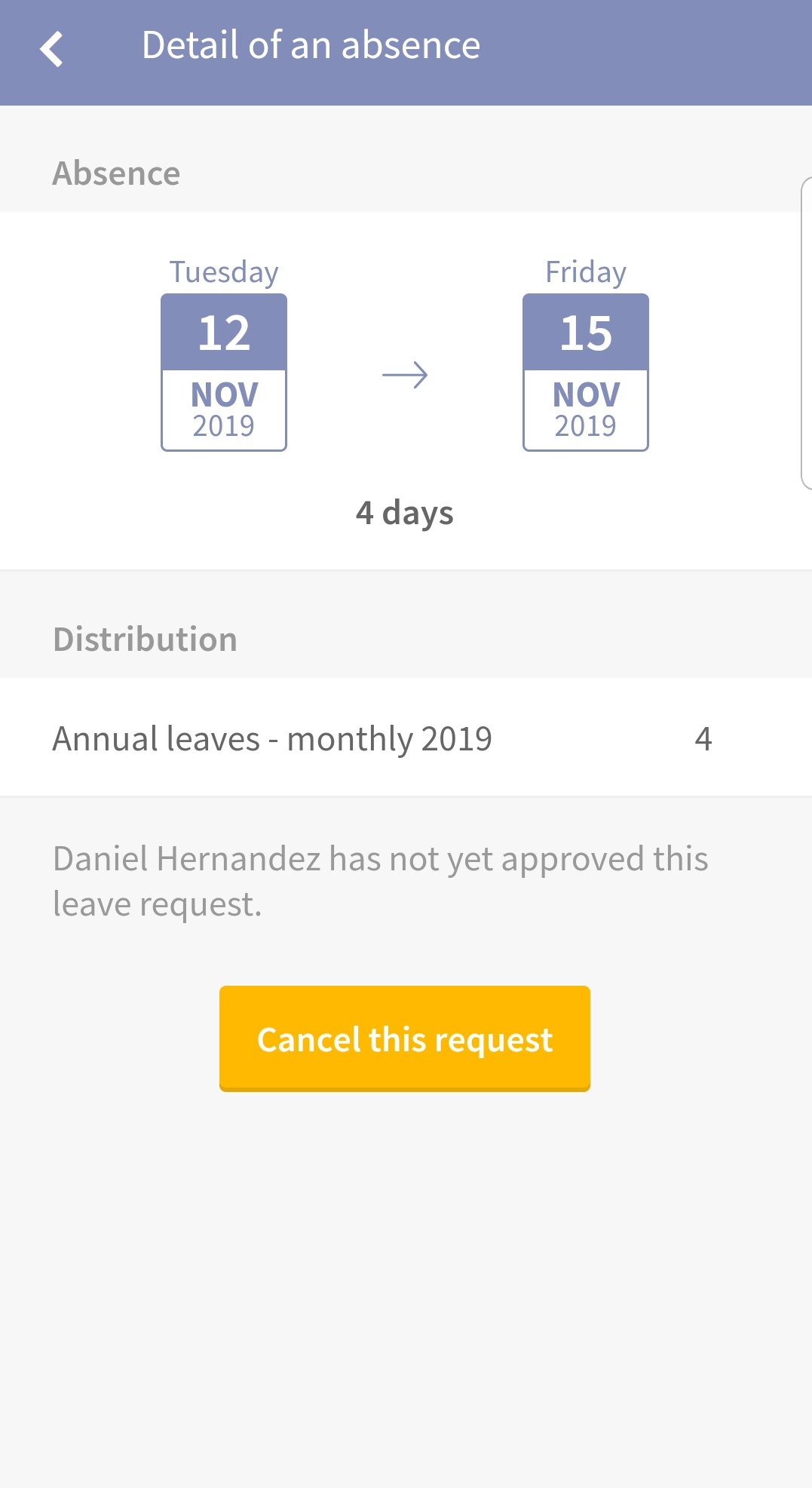 You can change Timmi Absences's suggested distribution by incrementally increasing or decreasing the counters and/or adding an account.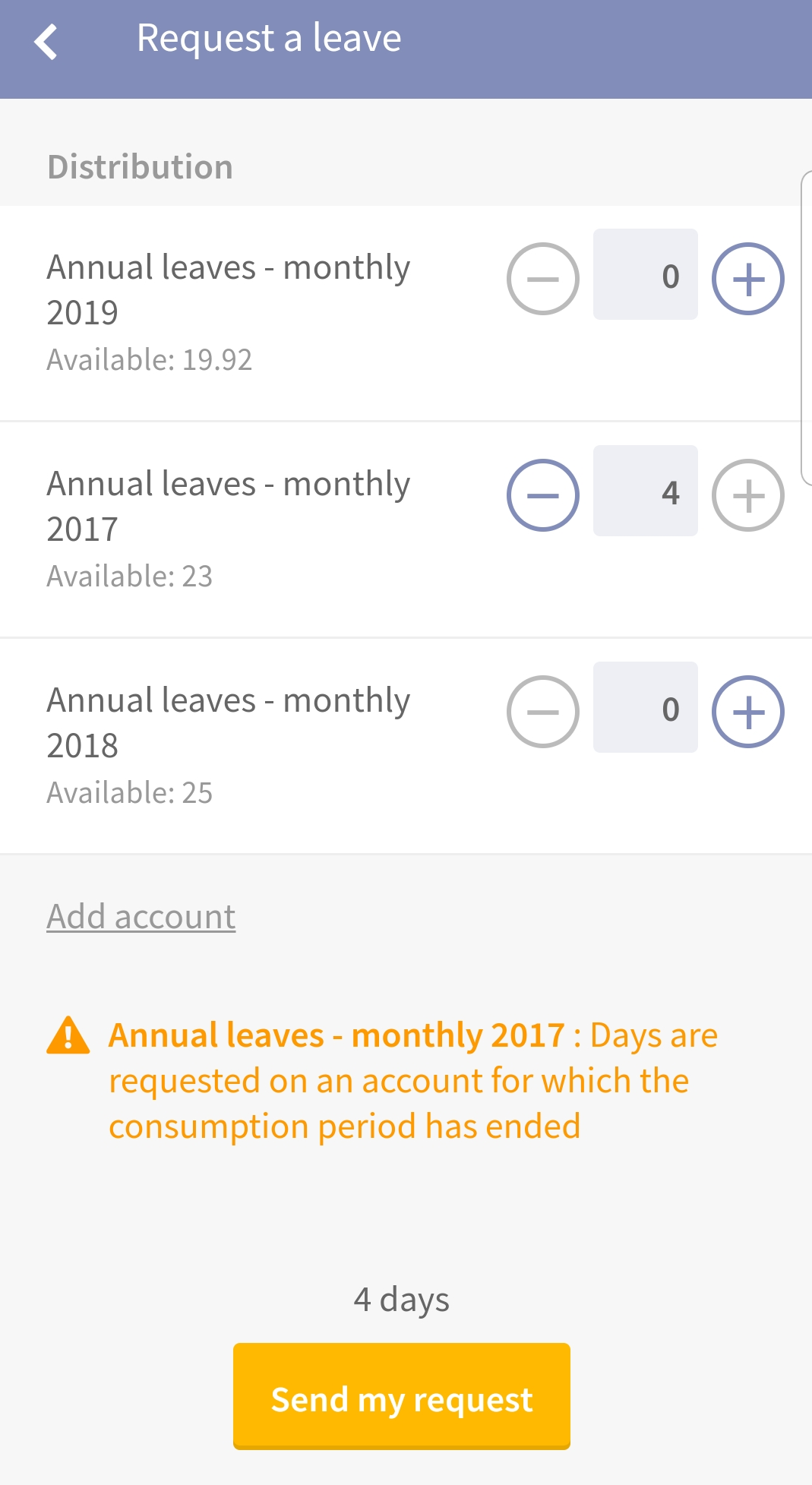 When you click on Add account, the list of accounts with usable days appears. Simply select one for it to appear on the previous window.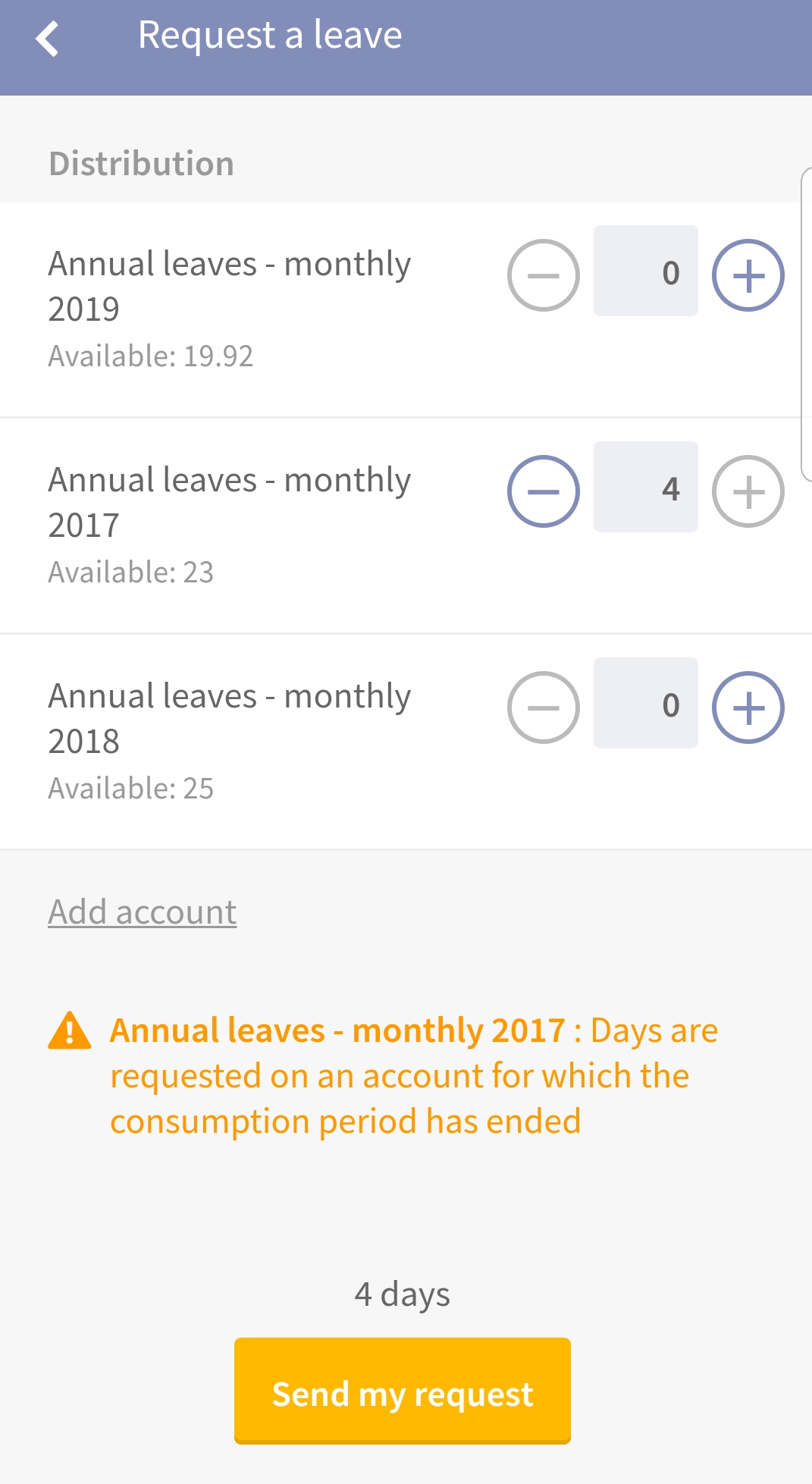 A request that is sent and pending approval shows up as striped on the schedule.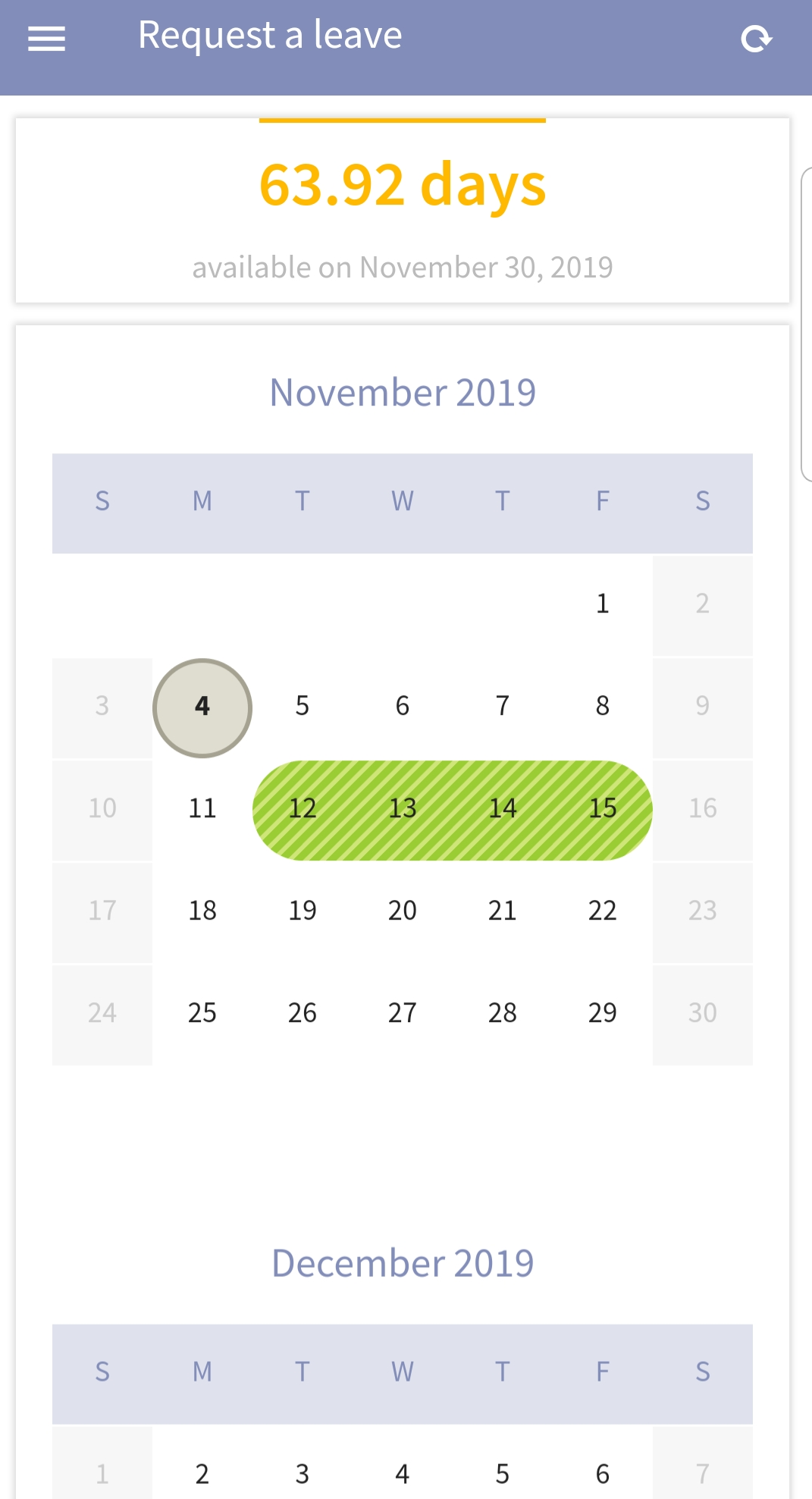 Cancelling a request
You can cancel a request or, if it was already approved by a manager, ask to have it cancelled. To do this, select the absence you want to cancel in the calendar. If it was not approved yet, you can instantly cancel the absence by clicking on 'Cancel this request'.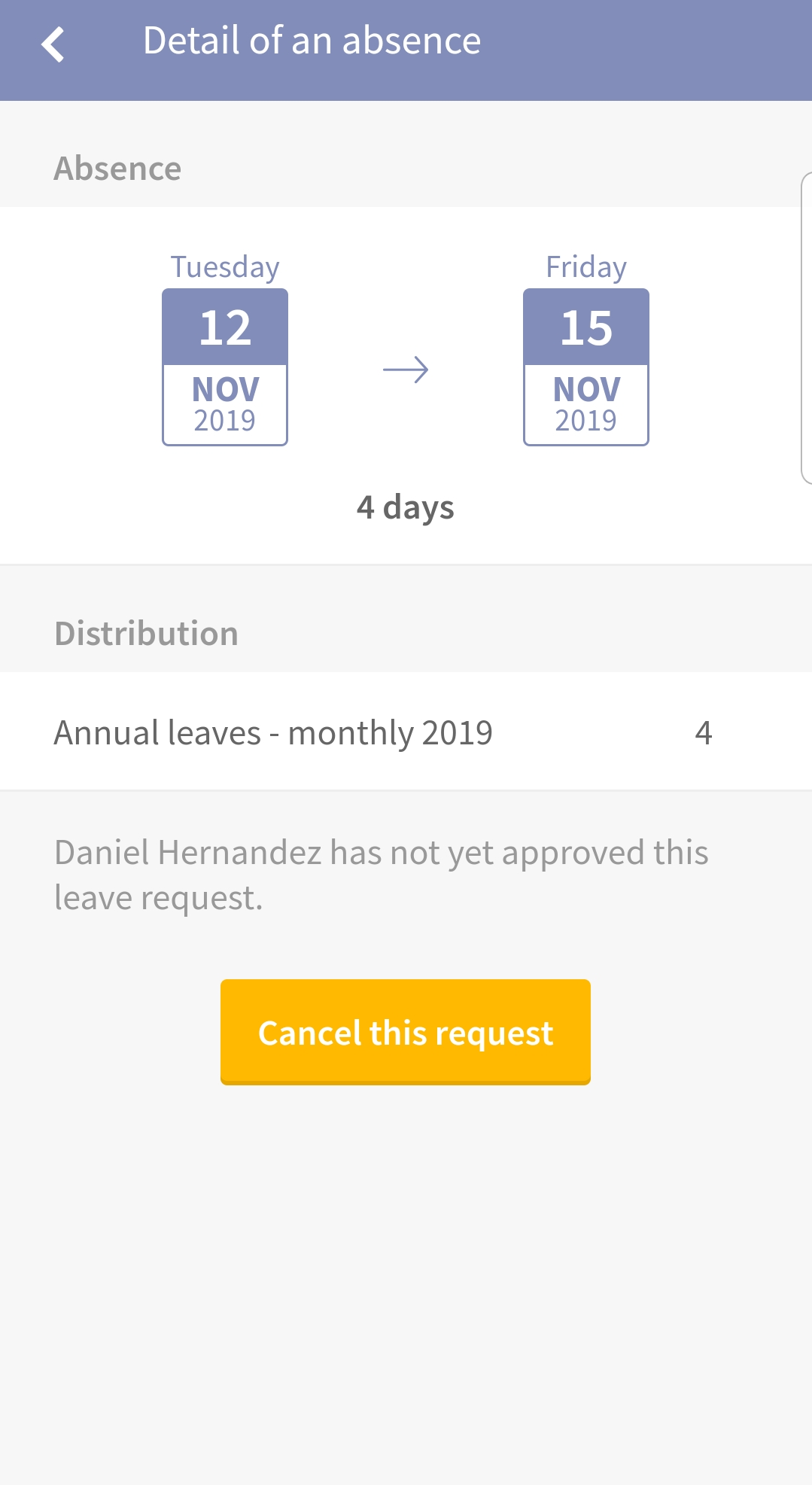 If the absence was already approved, you can ask for it to be cancelled by clicking on 'Request cancellation'. Your manager will have to approve the cancellation for the absence to disappear from the calendar.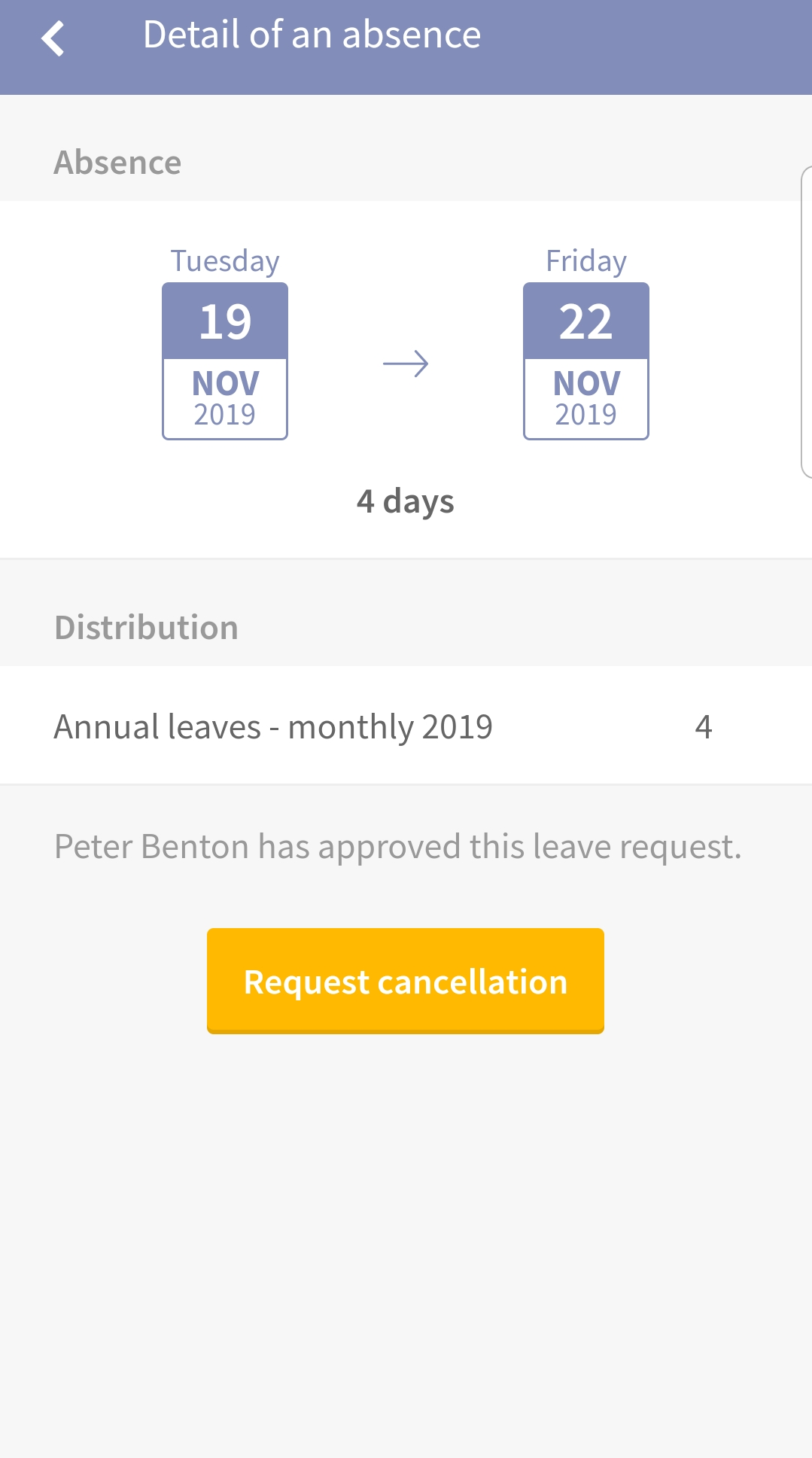 The user cannot cancel part of a leave or change request.
They must delete the entire period initially requested and submit a new absence request.
The number of days available
The mobile app shows the number of days available to the employee between the current date and the end of the month. This number of days is calculated based on the month shown. Timmi Absences calculates the balance available at the end of the month (end of October 2018 in the example below), taking into consideration days requested on the account after the end of the month.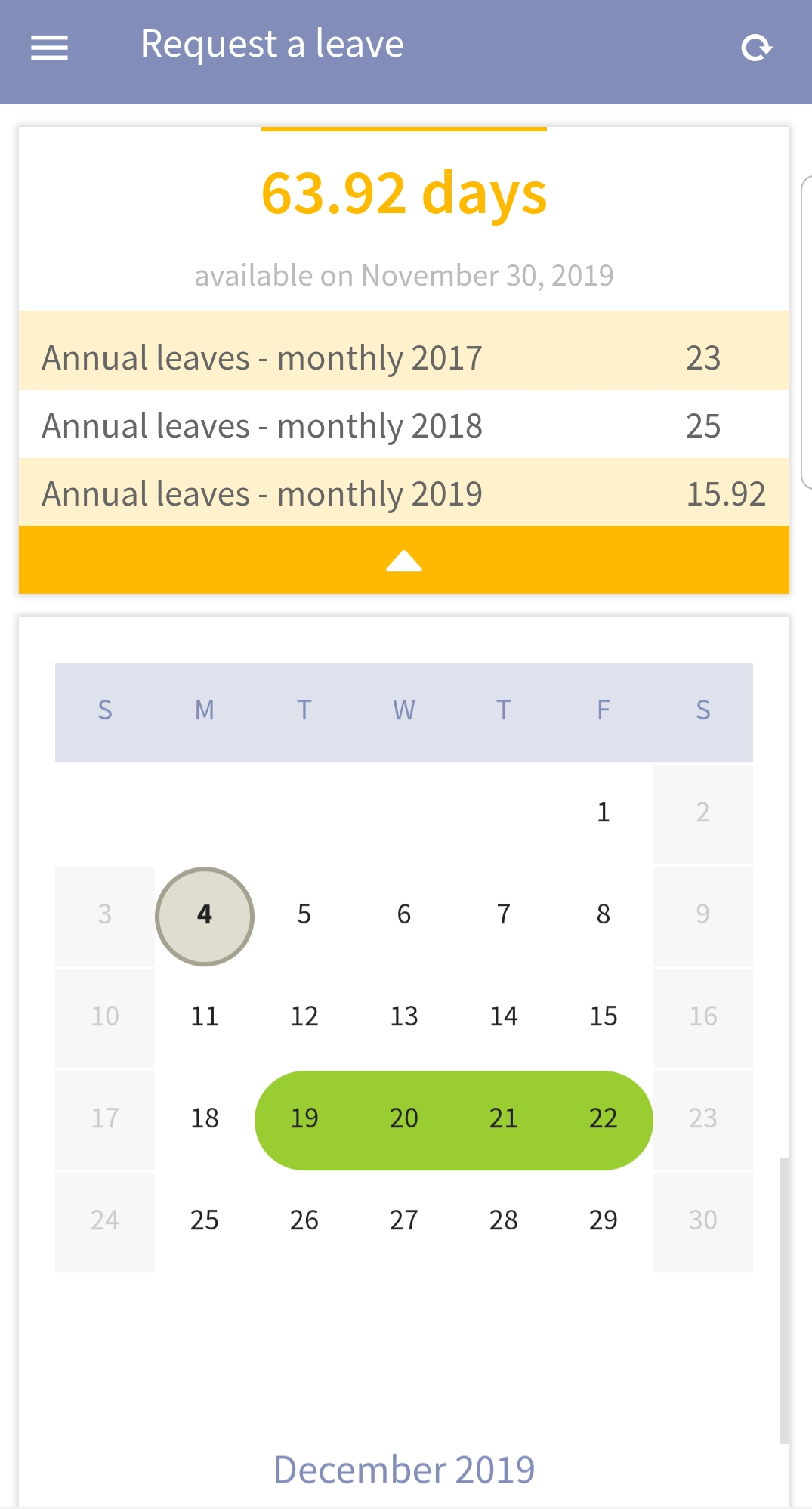 Showing requests needing approval (for managers)
By default, you see the list of requests you need to approve. The requests are arranged by the date they were created/requested by the employees.
Note: you see the employees' photo if they added it to Lucca.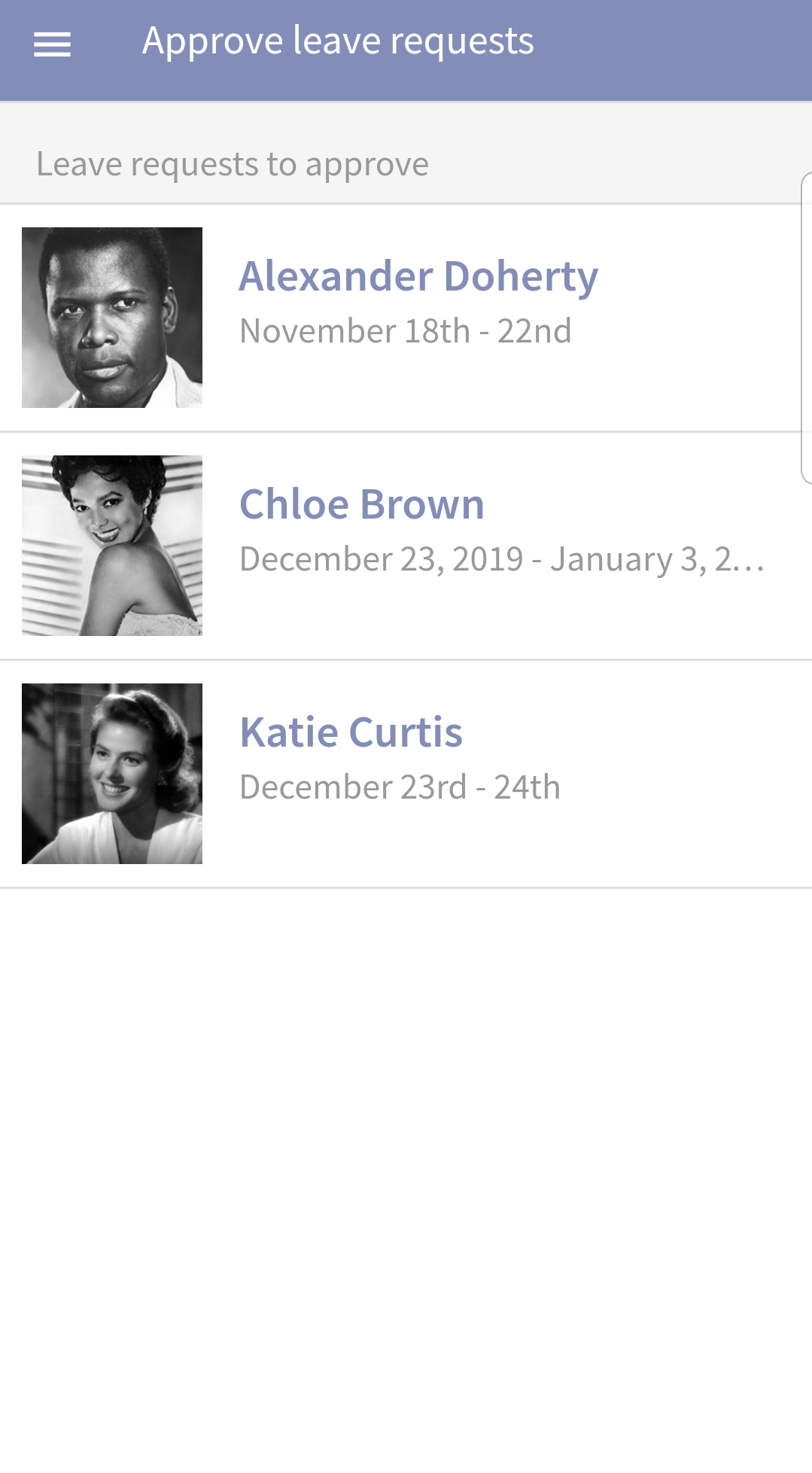 You can approve a request by swiping right, and you can cancel your action within 5 seconds.
When you click on a request, you see the details of the request as well as other absent employees from the same department.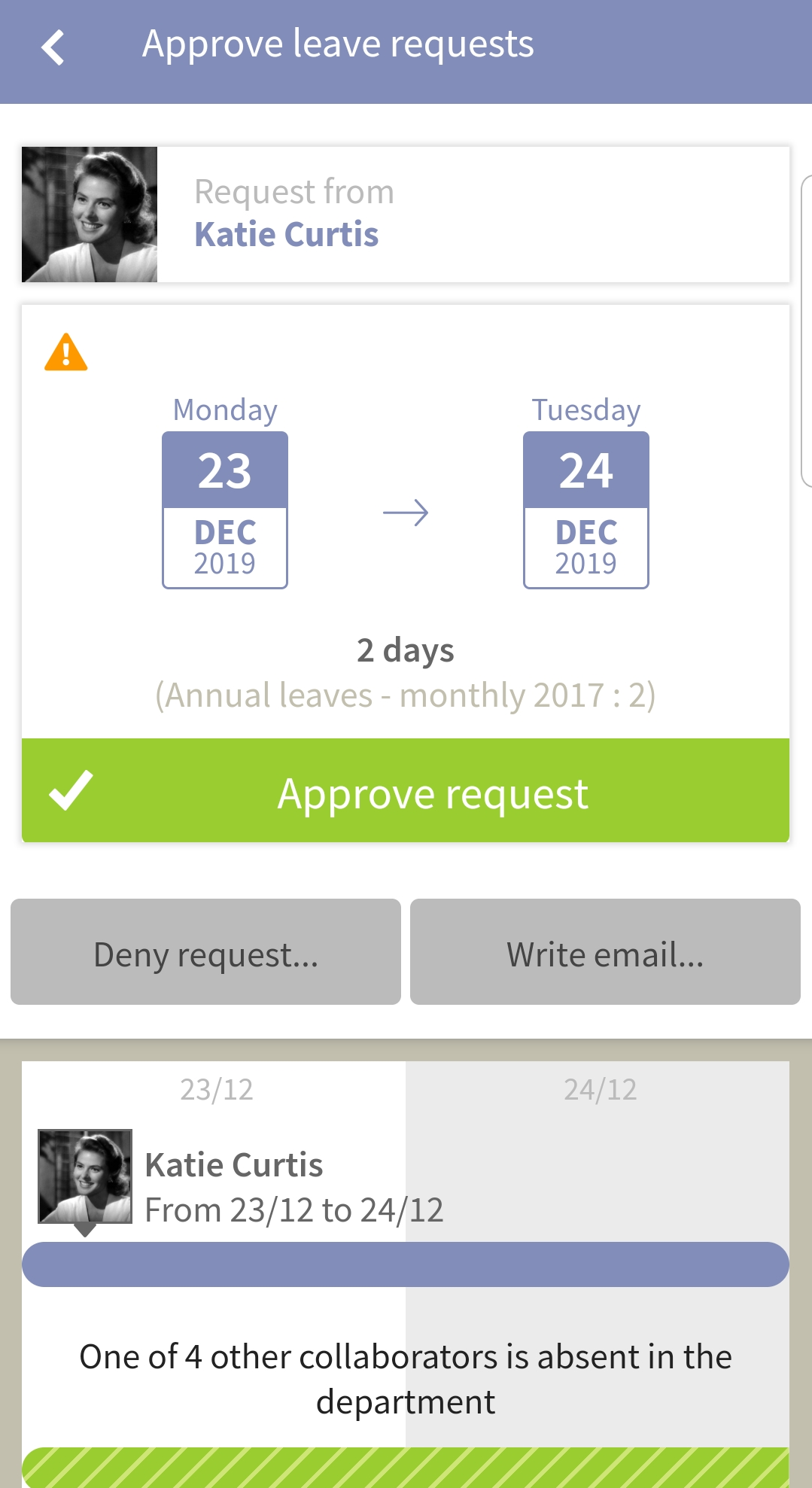 Scroll down to show all employees.