Cleemy's payment module allows expense reports and their associated entries to be paid (such as regularizations concerning already paid expense reports).
This operation also generates a payment file that can be either a SEPA format or CSV listing payment form of amounts to pay to each employee.
This article explains how to use the payment module, a second article explains its configuration, and a third details the module's operating rules.
If your configuration combines payment and accounting exports, you won't have access to this module. Instead, Cleemy will automatically direct it by analyzing the accounting entries that you are exporting.
Here is an outline of what the payment module offers:
Filters allow you to find the expense reports you wish to pay.
A summary of amounts to be reimbursed to your employees. By clicking on an employee, you can display the details of the payment that they will receive (reimbursed expense reports and possible regularizations regarding previous payments). You can also individually deselect specific employees if you do not want to reimburse their expenses at this time.
A tab allows you to access your payment history.
An button to pay what has been selected.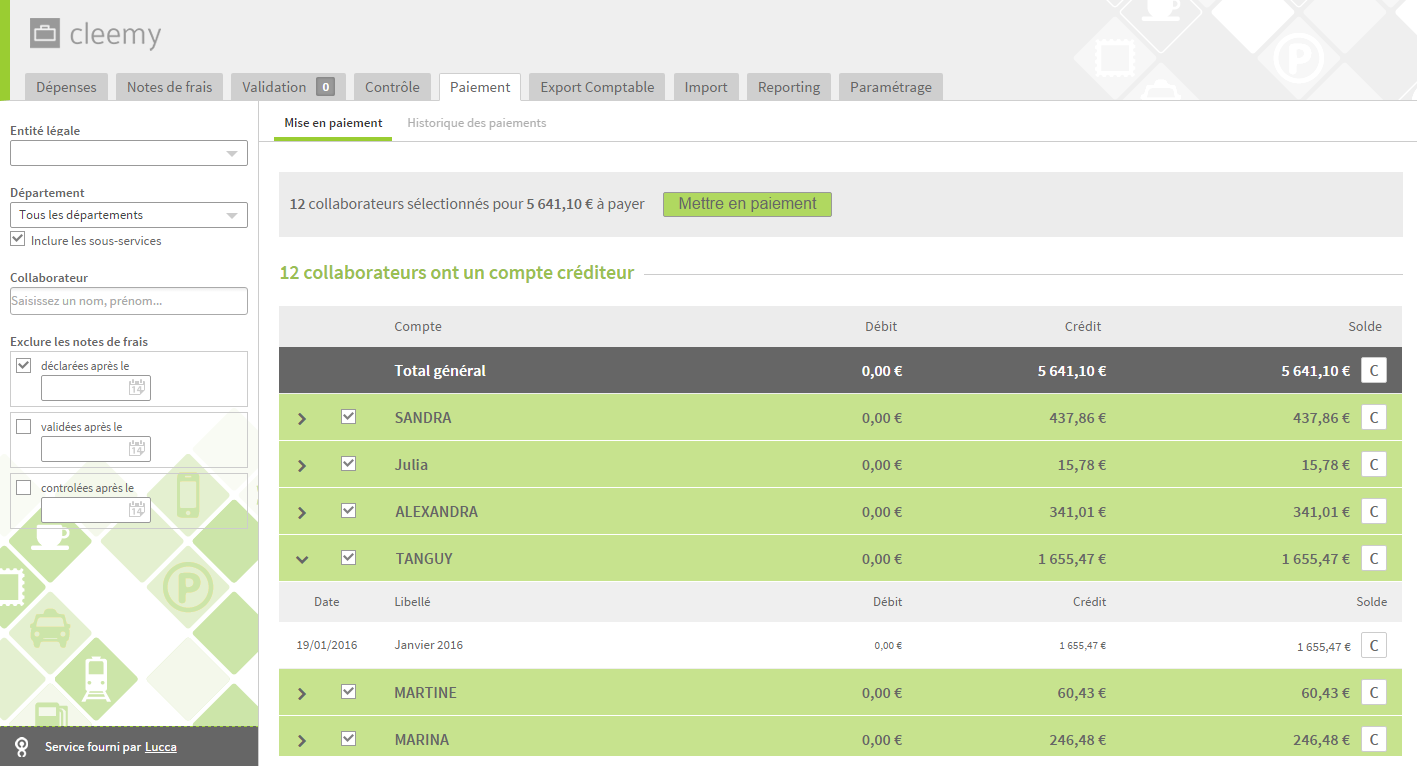 What expense reports appear in the module?
The payment module takes expense reports into account that:
have not already been paid, more specifically those that have not been lettered.
have been approved and controlled, or at least approved if your configuration authorizes the payment of uncontrolled expense reports.
are classified as "employee." "Company card" expense reports can naturally not be paid.
belong to a user whose account is "in the black." If an employee has an overdrawn account because, for example, paid expense reports were later denied, he or she will not be reimbursed until the balance is in the black once again.
You therefore do not risk paying the same expense report twice. If you modify an expense report after payment, only the difference will be passed on to the next payment.
How do I filter the expenses to be paid?
Several filters allow you to hone in on exactly what you are searching for. You can then individually remove specific users by deselecting them in the list.
The following filters are available:
Legal entity: given that Cleemy generates pay entries in its internal accounting, the compartmentalization of accounts by entity does not allow you to make payments to several entities at once.
Department: this allows you to pay a particular department and possibly sub-departments.

Please note that this filter applies to the department of the expense reports (or payments to be regularized), which the user belongs to at the moment when the expense report was declared (or the moment when the payment to be regularized was received).

Employee: you can use this filter to find the employee(s) that you wish you reimburse separately.
Three date filters: this is very useful if you only want to pay declared, approved and/or controlled expense reports before a specific date.
Payment
By clicking the "Make payment" button, Cleemy will begin verifying that the bank details of each selected employee are complete and correct if you are using the SEPA format.
If that is not the case, the payment will not be performed, and the employee(s) who need to update their IBAN or BIC code will appear in red. You can then deselect them and restart the payment if you still wish to pay the others.
If all the information is valid, a pop up will appear, and you will be able to enter up to three dates:
The posting date to apply to the payment (by default today).
If necessary, the desired execution date of the SEPA transfer.
The projected date when employees will receive their payment. By default, Cleemy adds the configurable value of "number of days of pending payment status" to the current date. Once this date arrives, expense reports will shift from "payment pending" to "paid."
Once you save the payment:
The affected employees will receive an email notification regarding the approval of a payment on their behalf which will include its sum and details for each expense report.
Expense reports will gain a "payment pending" status - unless the projected payment date is that day, in which case they will move directly to "paid."
Cleemy processes the associated accounting entry which will be then become exportable. The appropriate lines of employees' personal accounts will be lettered.
A link will appear from which you can download the SEPA or CSV payment file.
Payment history
The history tab allows you to consult previous payment, to display relevant employees, expense reports that have been reimbursed at the time of each payment, as well as a link to download the associated pay file.
You can cancel the most recent payment on the condition that the associated entries have not been exported to accounting.
Please note that if your export format does not include lines for payments, the payment will not be present in the accounting entry files. However, Cleemy will consider them to be exported anyway as long as the payment list is included in the export.
When a payment is cancelled, employees will receive an email notification.