Cleemy's mobile application is available on Android and iOS smartphones and tablets which can be downloaded on Itunes and Google Play. Simply search "Cleemy."
With the mobile app, you can enter all of your expenses and declare expense reports on the go. The app is synchronized with the internet application which allows you to enter expenses using your mobile device and modify them on your computer or vice versa.
Features
The Cleemy mobile application has been tailored for the needs of end users and is available to them on all their business trips.
Take pictures of receipts or bills and immediately attach them to expense reports, or submit a receipt saved in your mobile's photo gallery.

Enter GPS locations to quickly declare mileage expenses.

Retrieve credit card expenses on your mobile device (with the Budget Insight service).

Add guests, analytic imputations, comments, etc. just as you would using the internet version of Cleemy.

On a trip and don't have any service? You can still create expenses and then complete them once you are able to reconnect to a network.
Logging into the mobile application
When logging in for the first time, the mobile application will present a quick overview of its features before bringing you to an interface where you can enter your email address.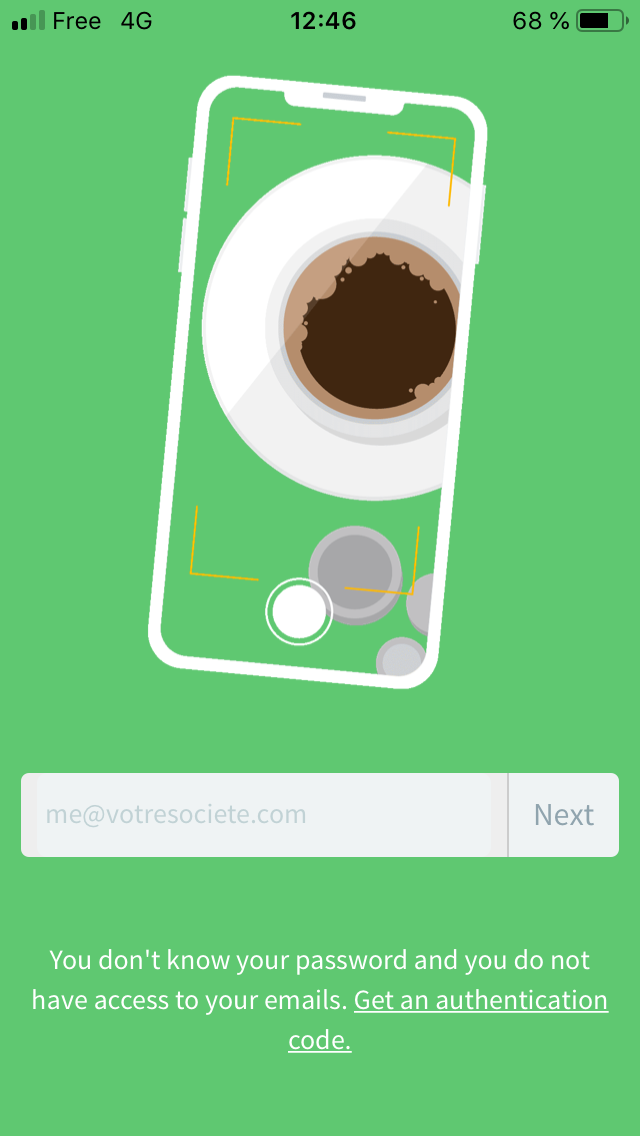 Once your email address has been entered, you will have the choice between two login methods:
By receiving an email with an authentication link

By entering your password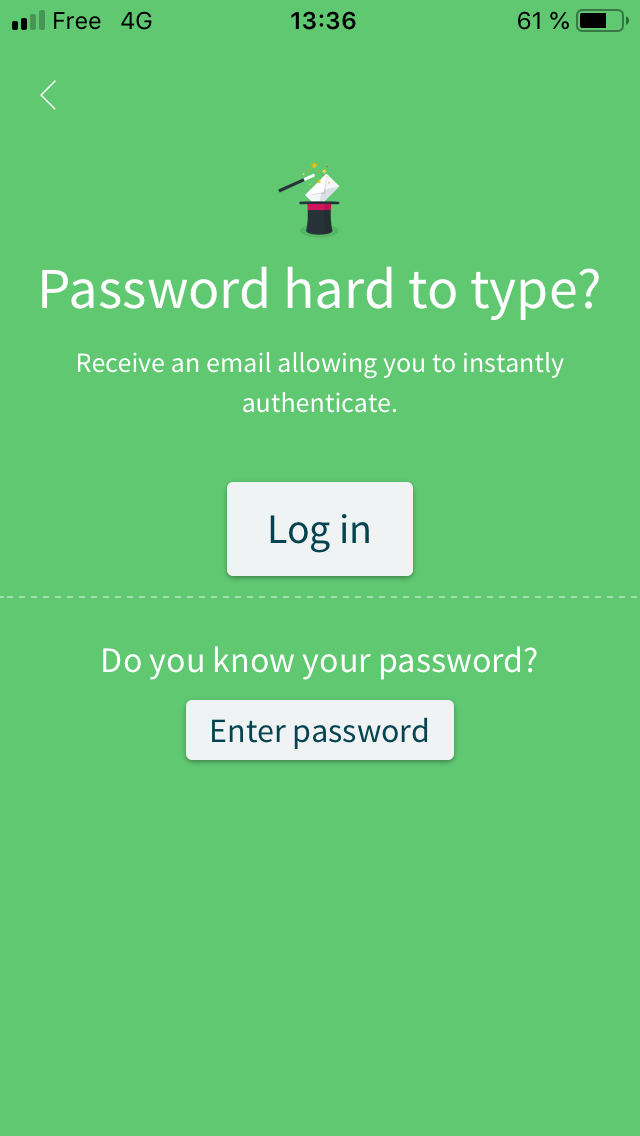 The "connect through email" option is the simplest: once you click this button, you will receive an email containing a link which will synch your Cleemy user account to your smartphone.
In order to synch, this message must be opened from your mobile device.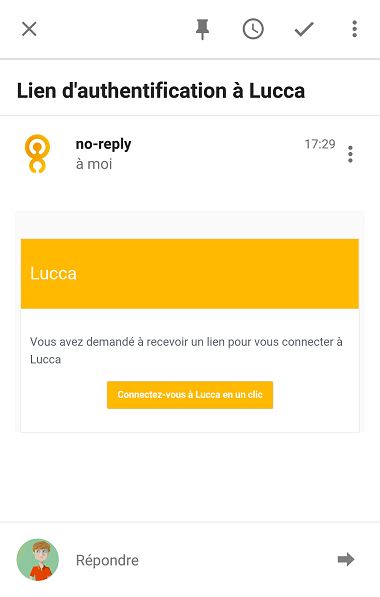 If you don't have access to your professional email account on your mobile phone, and you don't know your password, you can log in with the help of a 6 digit code.
Logging in using a 6 digit code
An alternative method of login consists of an authentication code that you can retrieve from your Cleemy user account using a computer or the internet browser on your smartphone. You only have to do it once!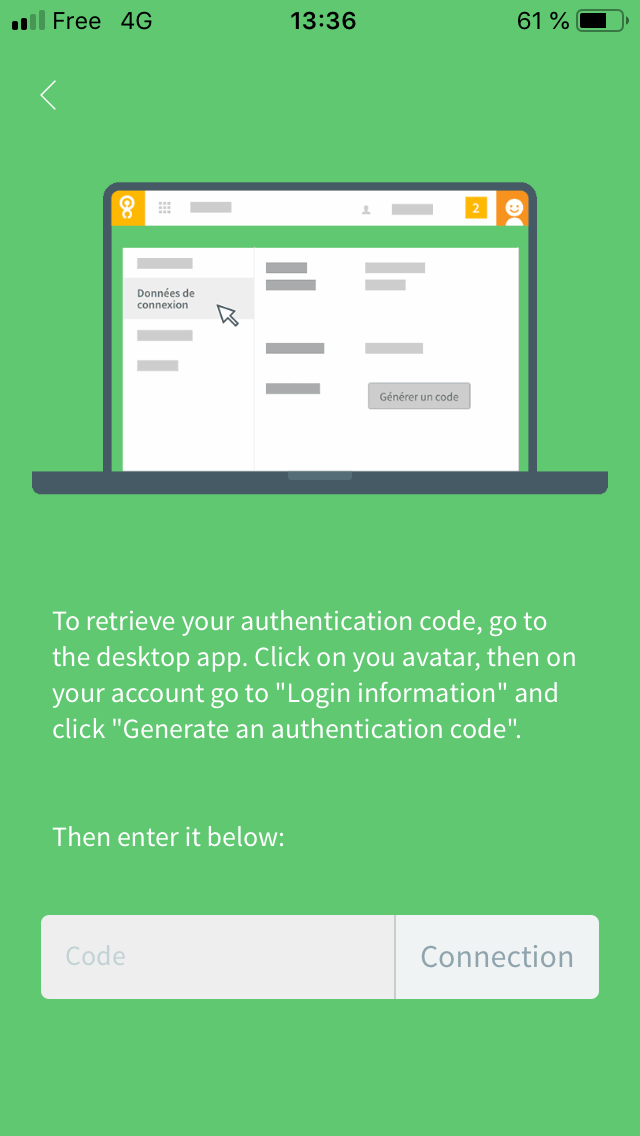 Log into Cleemy from your internet browser.

Click on your name in the navigation bar found in the top right corner of the interface.

Your user preferences will appear, and you will see a button which will allow you to generate a mobile authentication code. Click on it to display a 6 digit code which will only be valid for 15 minutes (you can generate another one at anytime).

Download the Cleemy app on your mobile from Google Play or iTunes.

Open the application. After a few welcome messages, you will arrive at a page where you can enter your code.

(If your company has several Cleemy products) A list will allow you to choose the Cleemy that you usually use - check the navigation bar on your computer to see the name of the Cleemy that you normally use.

You're finished, your mobile application is ready to use!
After two months of inactivity, you will be required to log in once again following the same procedure. If you are a frequent user, you will probably never have to log in again.
Please note that in the training and demo sites, you will be required to log in with a 6 digit code.
List of expenses
Upon launching the mobile application, you will arrive at a list of expenses that haven't been added to an expense report. At the time of your first login, this will be blank as long as you have not already entered any expenses from your computer.
This is the application's main page where you can enter new expenses or declare expense reports.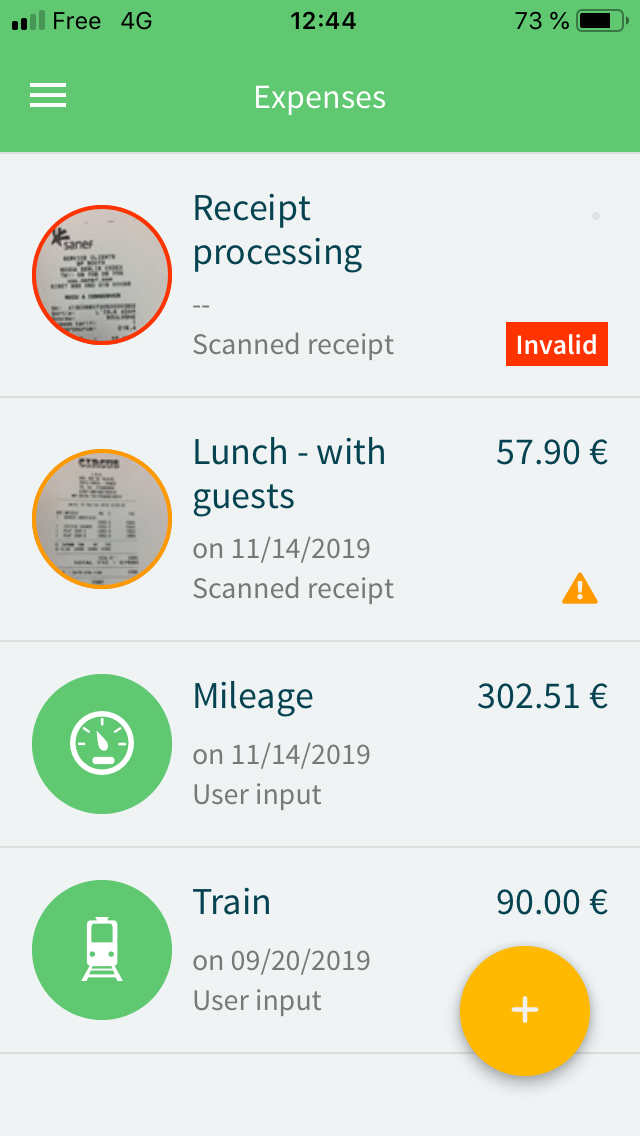 Creating a new expense
To create a new expense, you can choose between the two icons found at the bottom of the screen:
The "+" symbol allows you to create a new expense by first choosing the expense type.

Have the hard copy of the expense receipt in your hands? The camera icon allows you to take a photo of it and immediately create a new expense.
In both cases, you will then have to choose the expense type. Depending on the expense type selected as well as on your company's requirements, you will have to fill out a few short forms. The application will present you with fields to fill out grouped by theme: amount, date, guests, analytics, comments, etc.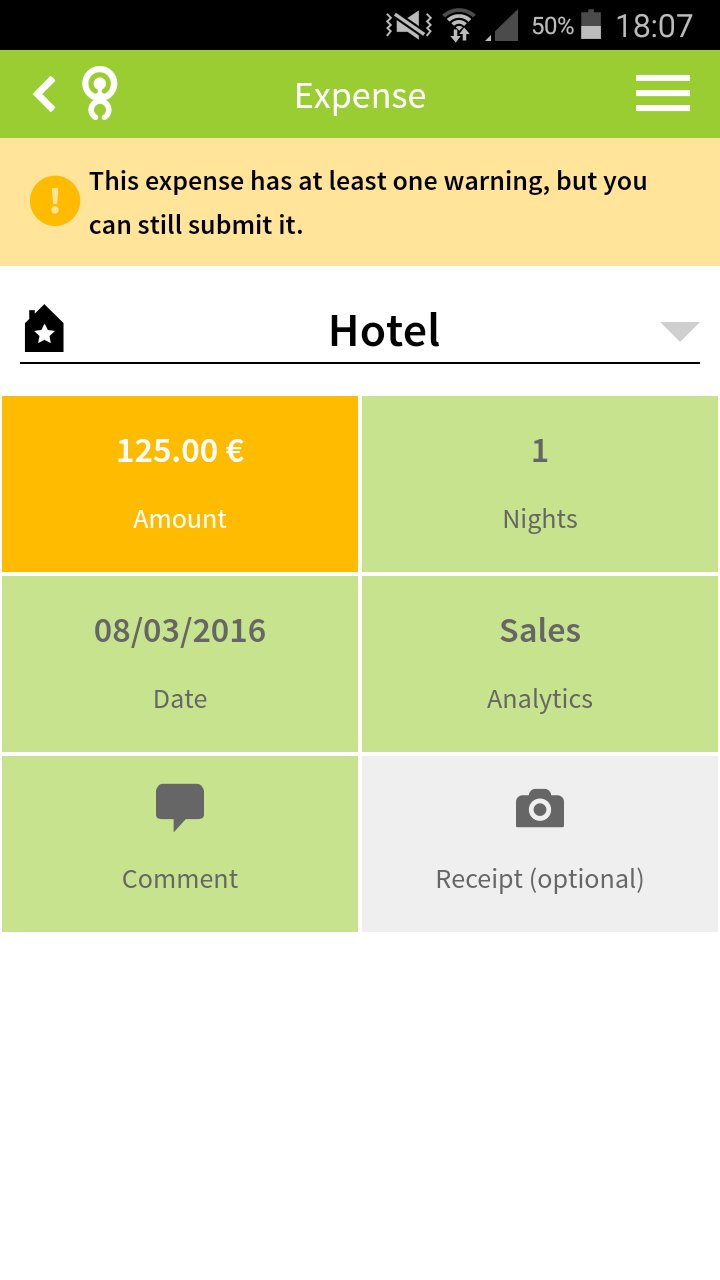 Your entries are saved as you go - no need to look for the save button!
You can pass from one theme to another thanks to the buttons found at the bottom of the screen, or you can access a single view of your expense in a mosaic layout by clicking on the icon located in the top left of the interface.
Using this single view, you are able see the most important information regarding your expense in a single glance. Each theme color corresponds with a status: green for completed themes, yellow for those that contain a non-blocking alert, orange for invalid entries or blank required fields, and grey for fields that have not been completed but are optional.
By tapping a theme's tile, you will access the associated entry form directly.
Mileage expenses
According to the configuration of your Cleemy, your mileage expenses will be entered by submitting a distance or a departure and arrival point. If choosing the latter, you can enter an address or provide your location by pressing the target icon.
Because expense modifications are saved as you go, you can start entering an expense, then do something else and when you return, you will find it in the same state as when you left it. This feature is very useful for mileage expenses. Just provide your location in the Cleemy application when getting in your car, drive, and then complete the form once you've arrived.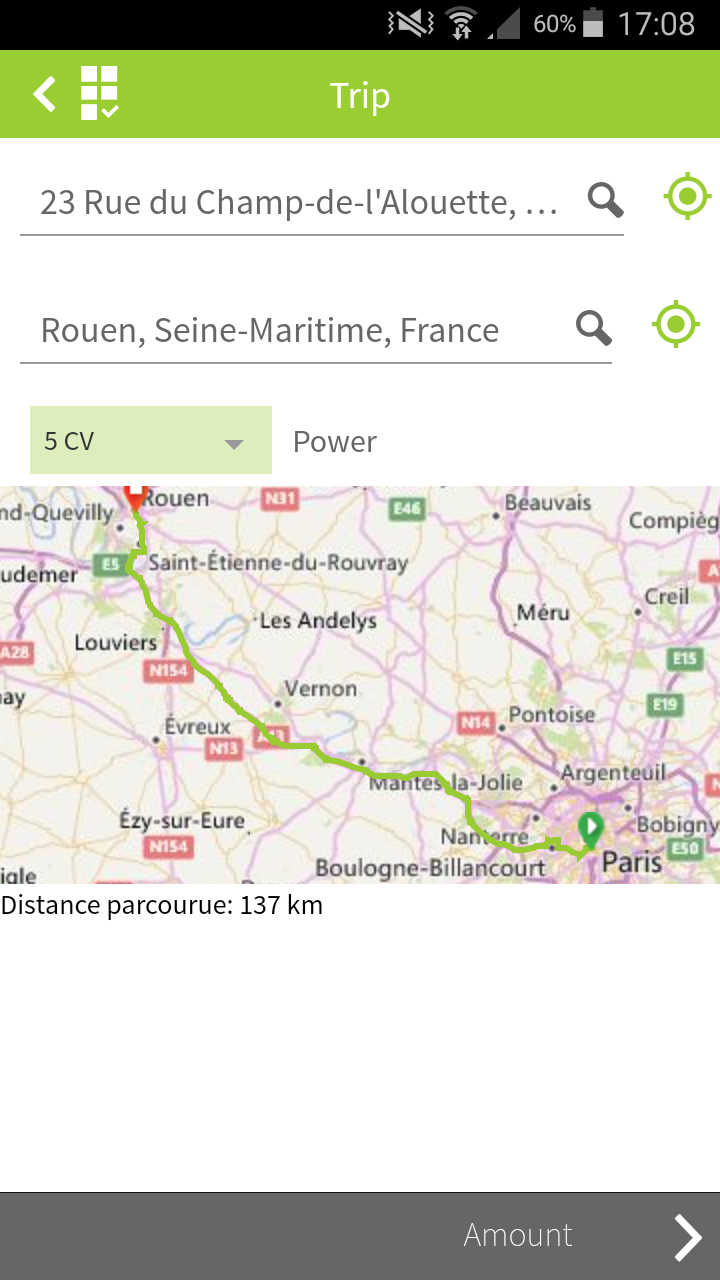 Guests
Adding guests requires internet access. To create a new guest, you must start by entering the first few letters of their name. This will prevent duplicate entries from being created if one of your colleagues has already met with him or her. If this person is not already on the list, the "Create new contact" button will appear. Just tap to open a "create new guest" form.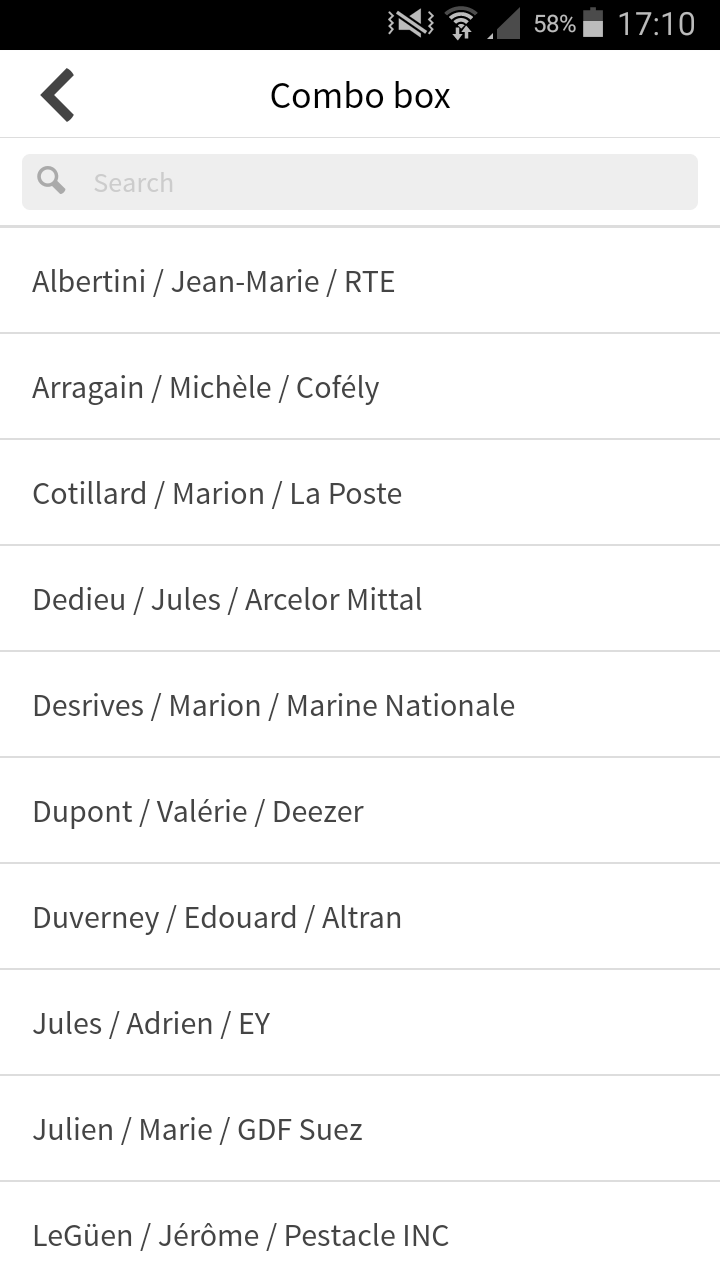 Deleting an expense
From the expense list, touch and hold an expense, then swipe it towards the right of the screen.
By doing this, a trash can icon will appear. To permanently delete an expense, simply tap this icon.
Synchronizing my expenses
Your expenses will automatically synchronize with Cleemy as you enter them.
If you are not connected to a network at the time, some expenses may have a refresh icon (circular arrow) next to them. To synchronize, drag the top of the screen down to immediately begin the synchronization.
Declaring my expense report
If you already have expenses and at least one of them is valid, the "create my expense report" button will appear.
You do not need to declare every expense that has been entered. To deselect an expense, simply uncheck each entry that you do not wish to declare at this time. Invalid expenses which are indicated by an exclamation point, as well as non-synchronized expenses, cannot be declared. They must first be corrected or a synchronization must be launched.
When you tap the "Create my expense report" button, Cleemy will prepare your expenses and bring you to a page where you are able to edit the title of your expense report.
Several expense reports may be created if you have several means of payment (i.e. a company credit card). Click "details" to display them and to edit their titles.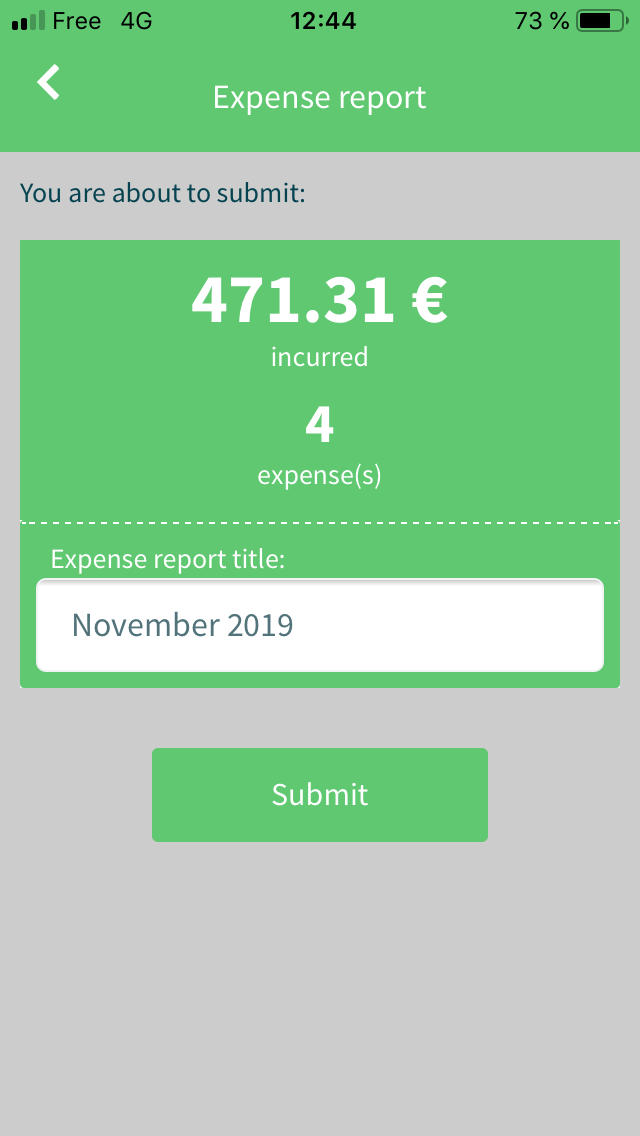 Updating Cleemy's configuration on my mobile device
The configuration of Cleemy is automatically updated every 7 days to ensure that you have access to every expense type as well as to your company's current settings.
If you are ever missing an expense type or if Cleemy's configuration on your mobile device is not the same as on your computer, you can update it by clicking "Update configuration" which can be found in the mobile application's menu.
To close the menu, tap the Lucca icon on the top left corner of the screen.