Background information
The departments in Lucca are used to draw up a sub-population tree view that will be used in different parts of Lucca, such as:
creating reports on different software
proceeding to adjustments or impose absences in Timmi Absences
managing application rights through roles, etc.
The departments are independent of legal entities, they can be used to create a transversal view of collaborators spread over different companies or countries, for instance the collaborators of the marketing department.
Accessing the department management module
The configuration of departments is accessible from the Cogged wheel icon on the the top right hand-side of the screen, by clicking Organization > Departments.
Creating a department
When you have arrived on the departments management interface, you can create a department by clicking "New department".
To create a new department, we require the following information:
name
short code which is mainly used in user data imports and to integrate this information to exports
manager
parent department (tree view) which defines its position within the tree view,and therefore its level
Edit the position of a department in the tree view
You can rearrange the structure by dragging and dropping a department to another position in the tree view, on the left hand-side of the screen. If you are moving a department that contains sub-departments, they will be moved as well.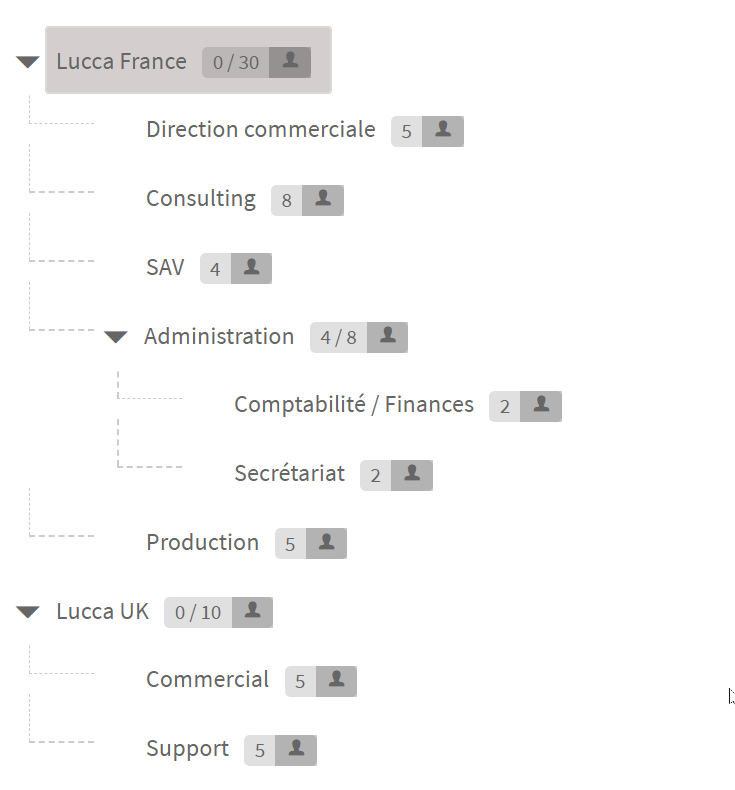 Editing the name, head of department, or department code
To so so, pleases observe the following steps:
Click on the department you wish to edit on the left pan (1)
Then click "edit" at the top right of your screen (2)
You can then edit the name, code, parent department and head of department: