Background information
Cleemy Expenses can perform daily imports of bank transactions from employees with business or company cards. Cleemy Expenses automatically creates expenses, and all that is left for the user to do is complete them in order for them to be integrated into the expense report.
We offer this service in partnership with Powens which specializes in banking aggregation.
You will find, at the bottom of this article, the list of banks we are working with, as well as the the conditions that must be met for the service to work properly.
Operating principles of the banking aggregation service
The service establishes secure connections with banks via banking interfaces. This requires the administrator to provide his or her banking identifier (i.e. the login and password of his or her online bank or the administrative platform of his or her fleet of cards) in a secure interface operated by our partner Powens.
A banking interface may include several accounts or banking cards: Cleemy Expenses is able to retrieve transactions from both. We do not differentiate between these terms throughout the rest of the document. Administrators choose the cards to share with Cleemy Expenses.
Each bank card is attached to a user. The transactions made using this card are converted to Cleemy Expenses as soon as they are retrieved via a secure connection (usually the day after the transaction). A single user can have several cards synced with Cleemy Expenses.
Each account can be configured to indicate if imported expenses are expenses to be reimbursed to the employee (charged in accounting to the employee's third party account) or are of the company type (generally charged to a bank account).
A few details to understand:
The synchronization is performed daily, but the time may change daily due to server load management.

If a synchronization fails, it will be retried later, but expenses will not be lost. The system was designed to handle such situations.

If the account has not been be linked to a user upon synchronization, the expenses are saved and will be created later once the account has been attached to a user.

Expenses will begin to be imported the day after the activation of a banking connection. Upon the first synchronization, all transactions that have taken place since the beginning of the month will be imported.

Cleemy Expenses can be synchronized with several banks (i.e. banking interfaces) if your fleet of cards

are not associated

with the same provider.

In a company, each entity can have their own banking interfaces in separate lists. However, we bill the group's consumption at the same time.
How can I configure the service?
In order to configure banking interfaces, you must visit the "Configuration of expense imports" page in the "Configuration" tab.
Once you have selected the legal entity for which you would like to import accounts, click on the "add a banking interface" link.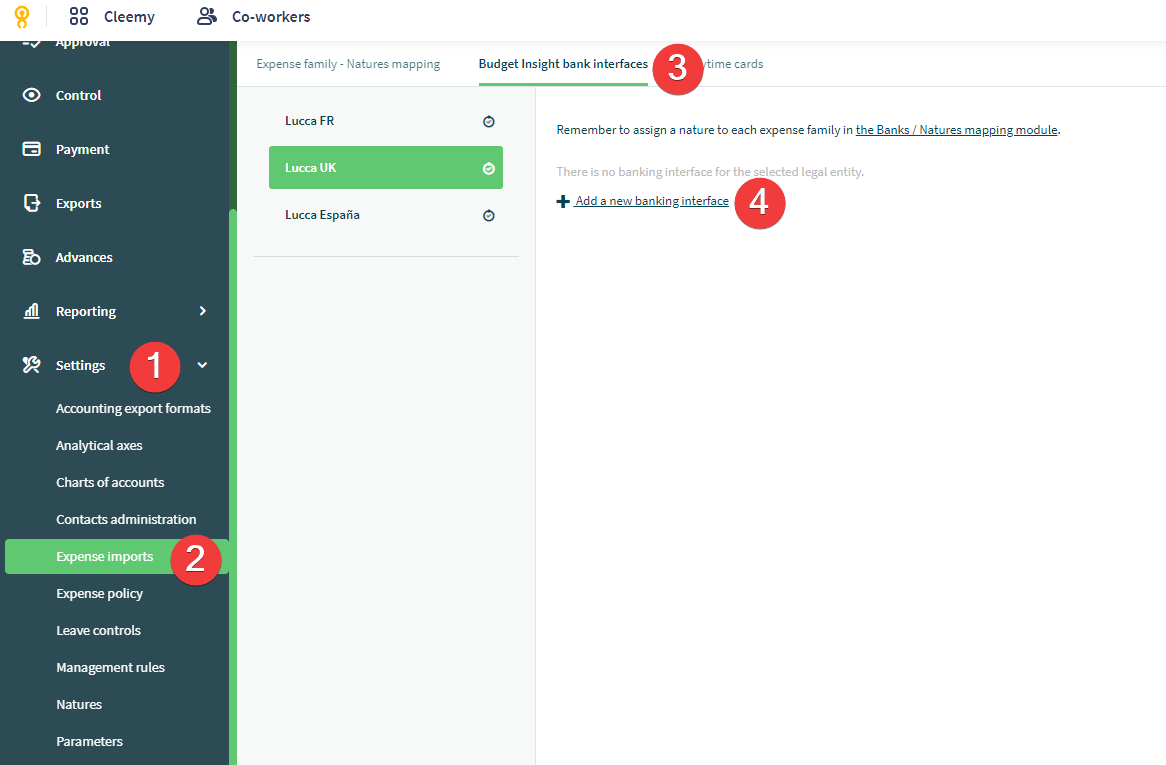 This will redirect to a page run by Powens: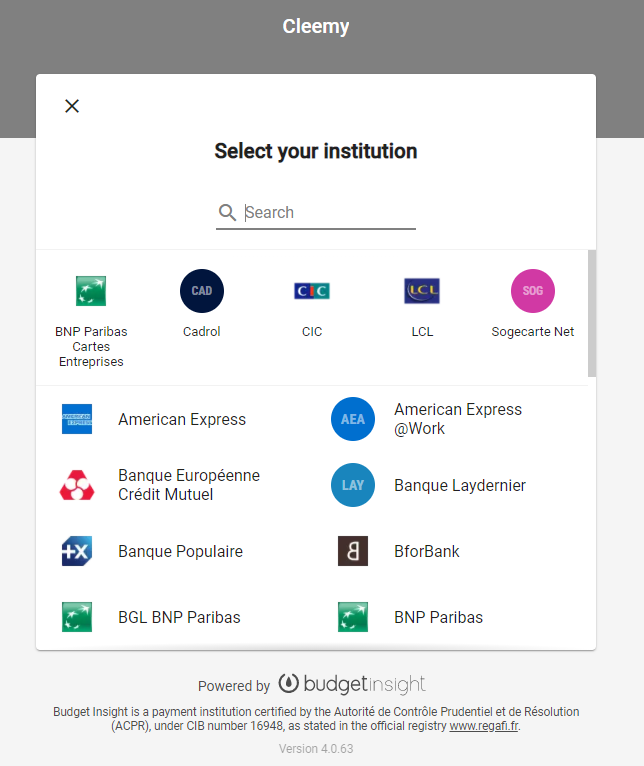 There, you can choose your bank and enter your username and password.
Make sure to enter the name of the company card service that you are using and not that of the issuing bank. For example, Sogécarte Net is the fleet of employee debit cards service offered by Société Générale.
Once your login has been authenticated, you will be directed to a page that lists your accounts and cards. Select those that you would like to share with Cleemy Expenses and confirm.
You will then be redirected to Cleemy Expenses. The accounts that you have just shared will be listed, and all that is left for you to do is to attach them to users. Then indicate if each account is a company account (i.e. the expenses must not be reimbursed to the employee) or an employee account.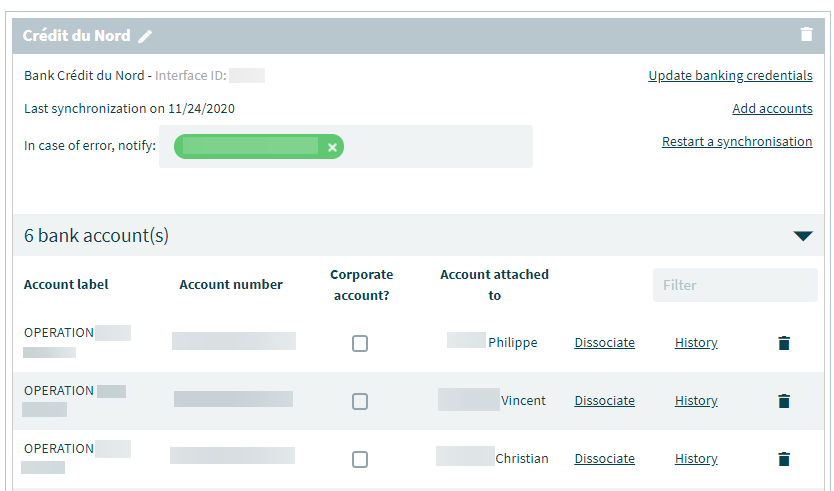 Starting the next day, expenses will begin to be imported daily.
You can visualize the import activity by browsing the card history.

It is possible to add or delete accounts for a specific interface by clicking the "add accounts" link or the "trash" icon.
Being notified in case of an error
If for some reasons, your expenses are no longer imported, you can have a specific co-worker notified by filling in their name in the field "In case of error, notify: XXX"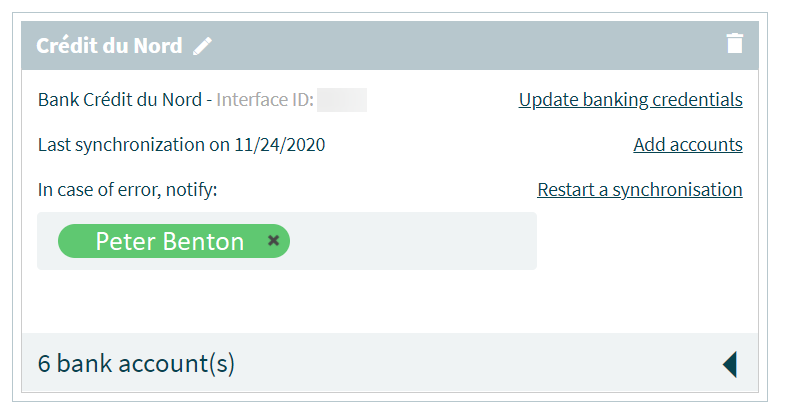 Error notifications are sent twice a week evert Monday and Thursday at 9 am GMT+1.
List of banks compatible with Cleemy Expenses
To find out if you and your bank can benefit from the expense integration service, you should:
check that your bank is listed in the table below;
check that the URL you use to connect to your banking interface is indicated in the column "url used to connect to the banking interface";
check that the type of card you wish to connect to Cleemy Expenses is supported;
check that you have a bank statement from your banking interface.
To understand the table, here is a reminder of the definitions of the different types of cards:
individual account: the employee's personal account.
company account (one card per account): expenses made on a company card are debited from the company account.
business cards: business cards are deferred debit cards. Expenses incurred on a business card are debited from the employee's account.
Here are the available banks and services:
American Express

Banque Populaire

BforBank

BNP Paribas

BNP Paribas Cartes Entreprises

Bred

Caisse d'Epargne

Caisse d'Epargne Global Affaires

CIC

Corner

Crédit Agricole

Crédit du Nord

Crédit Mutuel

Crédit Mutuel Cadrol

Hello Bank

LCL

Société Générale

Sogécarte Net

Tarneaud

Total GR

Online support page for the Cleemy Expenses expense report management solution.