Cleemy's general statements module allows you to generate two large families of custom statements:
Lists of expenses. Cleemy will search for every expense that corresponds with the filter criterias that you have defined and will display the selected information in the form of a table.

A tabulation of expense amounts. This allows you to analyze expenses, organized by employee and by expense type, or even by project and by users, etc.
In every case, the statement can be exported in CSV format (compatible with Excel).
Types of statements and their options
List of expenses

In this type of statement, you will choose a grouping axis among:
the expense type,

the declarer's department,

whether the expense is reimbursable or not (i.e. if it has been settled by the employee or by the company's payment method),

all analytic axes you use: project, cost center, client, etc.
You must then select the information from each expense that you would like to see displayed: the declarer's name, expense amount, comment, etc.
Table of TTC amounts
In this type of statement, you must choose two analytic axes which will group the expenses in the same way that the list of expenses is grouped. This allows you to a create an accumulation of expenses by employee, broken down for each employee according to expense type.
You must then choose a organization model by either day, month or year. The statement will be divided into as many columns as there are months, weeks or days during the statement's time period.
Here is an example of a statement which is organized by department and by expense type: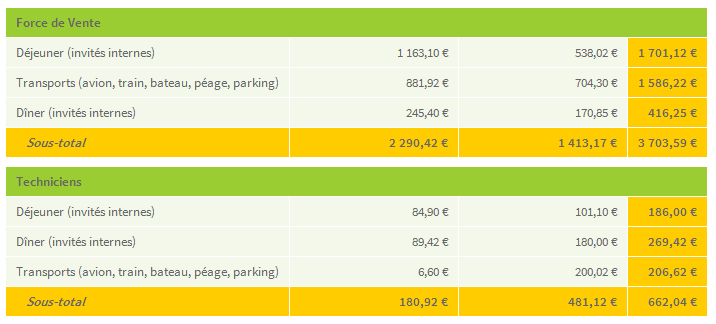 Tabulations contain subtotals by line and by column. For you to be able to most easily reprocess the exported versions of statements, these will not include subtotals.
Filtering expense reports to be included in the statement
In order to generate a personalized statement, you can use several filters.
Reference date
You can choose from three dates:
The date of the expense which is the date that the employee incurred the expense and that will be found on his or her receipt.

The date the expense report (to which the expense is attached) was created. In practice, employees often declare expenses late: this allows for an expense made in May and declared in June to be included in your June statement.

The posting date of the expense report that you have attributed to it during the accounting export. In this case, only posted expense reports can be included in the report.
Legal entity and department
If you use Cleemy in several entities, you can filter expenses by legal entity or by the declarer's department (at the moment when the expense was declared). It is only possible to choose all legal entities in the list of expenses.
Expense type
Here you can choose to take into account all expense types or to only select certain ones.
Status
It is possible to filter expenses according to their status:
Declared: the expense report has not been approved by the employee's authorizer.

Semi-approved: if your approval process has several steps and not every authorizer has approved it yet.

Approved: all authorizers have approved the expense report (independently from the accounting control).

Denied or cancelled: see below.

Controlled: the accounting control has been completed. According to your configuration, this step can be performed before, after or at the same time as the approval.

Posted: the expense report has been released into Cleemy's workflow. It will be transferred just as it is in your accounting software.
A note about expense reports with a "Denied" or "Cancelled" status. When an expense report is denied out right by an authorizer or cancelled by its declarer, it has not been deleted: Cleemy creates a copy of the expenses it contains and sends them back to their declarer. The previous expense report will exit the workflow and never enter your accounting software. Nevertheless, in order for you to keep track of cancelled or denied expense reports, you will be able to retrieve them in statements even though them has not produced a reimbursement.