Introduction
Cleemy allows you to easily manage mileage compensations by either using the official expense report rate or by using a custom rate. This page presents the different ways you can configure mileage expenses in your company.
All mileage expense configurations can be performed in the "Configuration" tab under the "Expense types" section. When you choose (or create) a new mileage expense type, you can choose a configuration among the options described below.
Entering a trip
How to enter trips
Cleemy allows users to declare their trips in two ways: by either providing the distance travelled or by entering departure and arrival locations. The entry method is a specific parameter for each mileage expense type.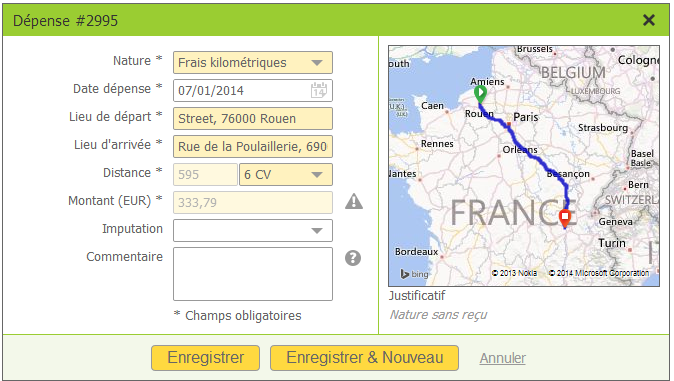 You can create two mileage expense types that function differently
by entering a distance for users who take several trips every day, such as travelling sales representatives. Filling out total daily distances is more efficient for this type of user.

by entering an address for users who not travel every day or who are working on projects or for specific clients.
As soon as you display the parameters of a mileage expense type, "The user indicates…" options allows you to select which entry method will be used. It is possible to change the entry method, and this change will not have any impact on expenses that have already been declared.
Configuration options regarding distance calculations
Cleemy uses Microsoft's map service in order to calculate the distance between two addresses. You have several calculation options at your disposal:
Trip optimization: this allows you to choose if the calculated distance will use the minimum distance (i.e. generally using small roads) or the minimum amount of time (i.e. closer to the trips actually taken by users).

Toll roads: you can configure Cleemy to allow, limit or restrict routes that include toll roads.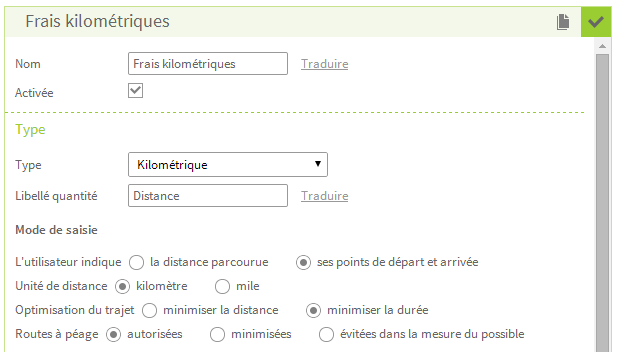 Calculating amounts to be reimbursed
The method of calculating reimbursements is defined just after the trip's entry option.
Using the official rate
If you opt for the official rate, Cleemy will automatically calculate the amounts to be reimbursed according to the horsepower of each user's vehicle. This is done in accordance with the current official rate which you do not need to update year after year. Similarly, if the official reimbursement rates are updated throughout the year, Cleemy can retroactively and automatically perform regularizations. The amount reimbursed to employees is then decreased until the overpayment has been recuperated.
To use the official French rate, you must select "Mileage web serve" in the "Calculate compensations" field.
Enter "car," "motorcycle," or "moped" in the "Web service Mileage" field to indicate to Cleemy which rate to apply to this expense type.

If you would like the horsepower to be completed in advance according to the user's personal file, please indicate this in the "Default horsepower" field (for example, by entering 7 for an employee who has a 7 horsepower vehicle). Please note that in this case, a user cannot enter mileage expenses if there is not a value in his or her personal file.

If you allow employees to modify the horsepower of their vehicles to something different than what is found in their personal file, click the "Modifiable horsepower" box. You will then have to indicate the authorized horsepowers via the "Modify values" link.

Using a custom rate
Unlike the official rate, this configuration option does not allow you to manage several reimbursement rates according to travelled distance thresholds from the beginning of the year. To define a custom rate, please choose "configurable rates" in the "Calculate compensations" field.
You will then have to add as many "factors" as there are available reimbursement rates in your rate scale, whether this rate is linked to horsepower or to another criteria.
Each factor requires three pieces of information:
The power is an integer, generally horsepower. If your scale only has one rate, you can enter a horsepower of 1.

The description is displayed to the user when he or she declares a mileage expense.

The factor is the reimbursed amount by unit of distance travelled in the currency of the user's company.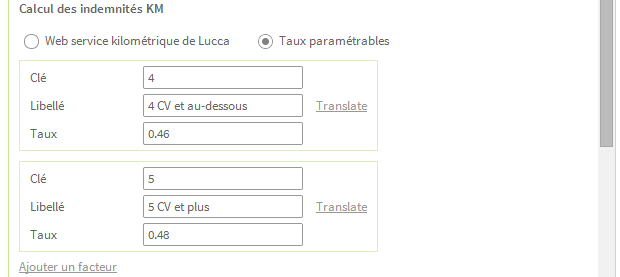 It is not possible to add a default horsepower to users when you use a custom rate.