For certain expense types, users may be required to pay for other people, whether they are colleagues or third parties. These expense types can be selected in the "guests" report to regularize users' restaurant vouchers or to calculate the average cost of meals, for example.
Configuring an expense type with guests
In order to provide the possibility to declare guests in an expense type, you must modify its configuration via Configuration > Expense types.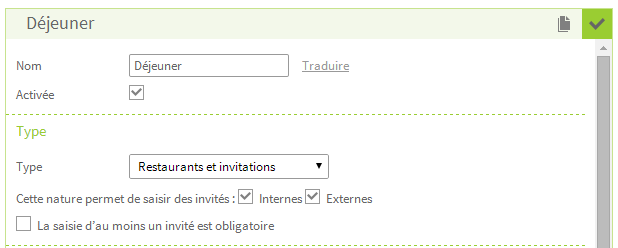 Choose the expense type for which you would like to authorize the entry of guests.

Select the "Restaurants and guests" expense type in the "Expense type" drop down menu.

A new section containing three checkboxes will appear:

The "inside the company" box allows the user to choose another user among the iLucca site users regardless of the legal entity he or she belongs to.

The "outside the company" box allows the user to enter a third party's name and company upon the creation or the modification of an expense.

The third box allows for the declarer to be obligated to enter at least one guest who is either "inside" or "outside" (if the "inside" and/or "outside" boxes are checked). To learn more about guests from outside the company, please visit its support page.
Meals without guests
It is possible that you wish to incorporate expense types without guests with the meal calculation report. This is especially useful for employee meals at restaurants when they are alone: their meal was paid for by their expense report. It is therefore convenient to regularize them with a restaurant voucher.
To do this, all you have to do is leave the three boxes unchecked in the configuration of the expense type: users cannot enter guests, but these expenses can be integrated in the "Guests" report.
Guests from outside the company
Cleemy keeps track of your users' third party guests in its database. When a user begins entering the name of an existing guest, Cleemy will automatically suggest contacts with similar names who have already been guests of any other user.
However, this information is not currently integrated with the "Guests" report.