Background information
You can submit absence requests from Timmi Absences's 'Request' tab.
Completing a leave request in Timmi Absences
To complete a leave request:
Click on the

 

first day

 

of your request and then the

 

last day
Specify whether the request starts or ends on a

 

half day
If you have accounts in different units (hours, working days), select the

 

type of leave

 

you want to submit.
Click

 

Continue

The next window to appear is the leave request allocation tab. Here, you can choose what absence accounts to use to request leave.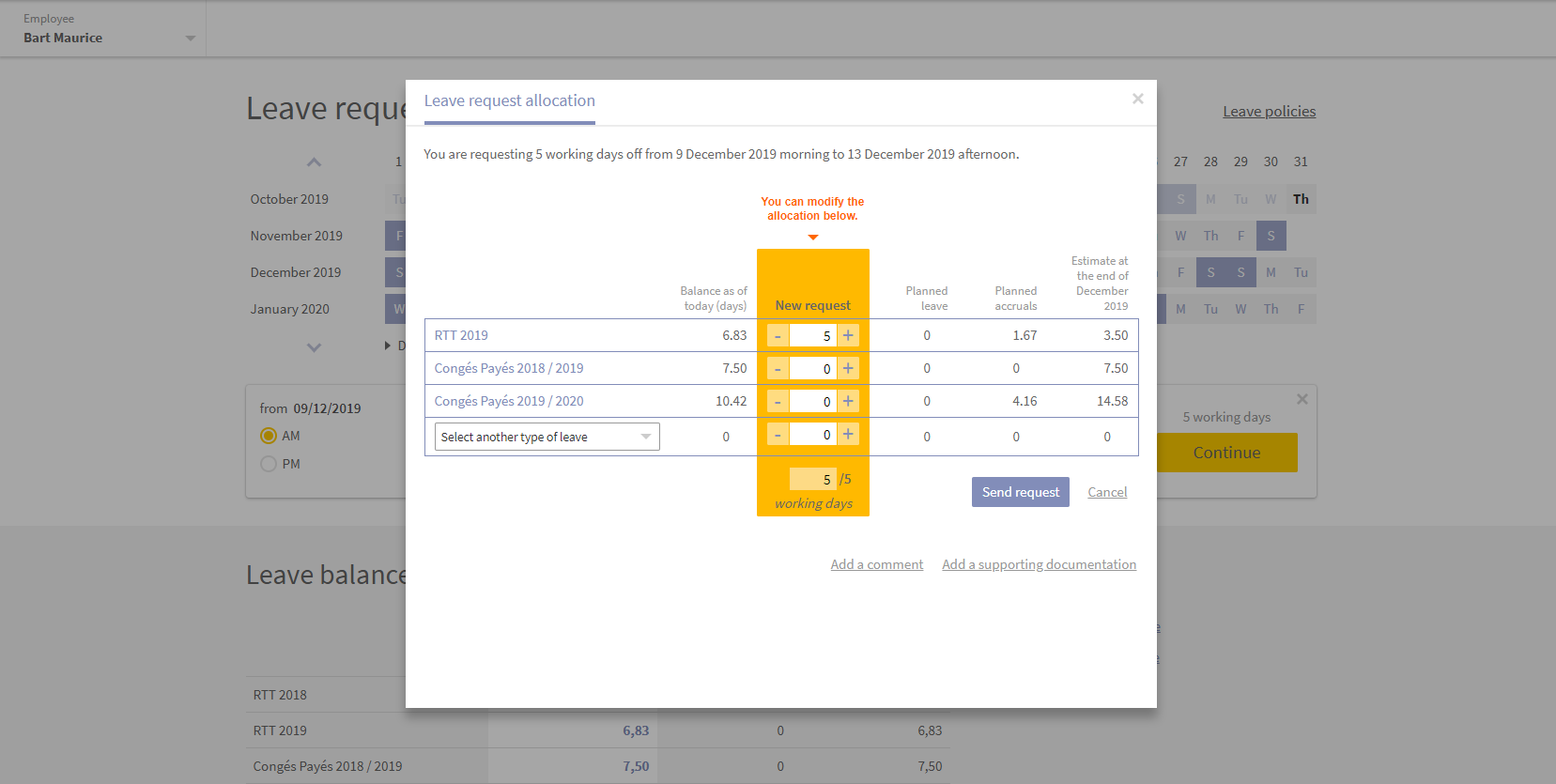 Suggested automatic allocation is based on the absence accounts with the closest consumption period end date. The remaining balance also appears on each of these accounts.
However, you can still change the suggested allocation. This allocation's total must match the number of days of absence indicated in step one (in yellow on the schedule).
By default, the user can only see accounts with a positive balance and on which they are authorised to request leave.
In the drop-down list, you will find all family event accounts and accounts defined in the settings as available in the drop-down list.
FAQs
Why is an account not appearing in the drop-down list?
The drop-down list must be configured to allow a type of leave to be visible in it. To check the account settings, go to: Configure > Accounts - click on the modify icon on the line for the account in question (the example below is for the 'Wedding' account).

Enable the 'Available in the drop-down menu of a request' section so that users can access it. Remember to save the change before leaving the page.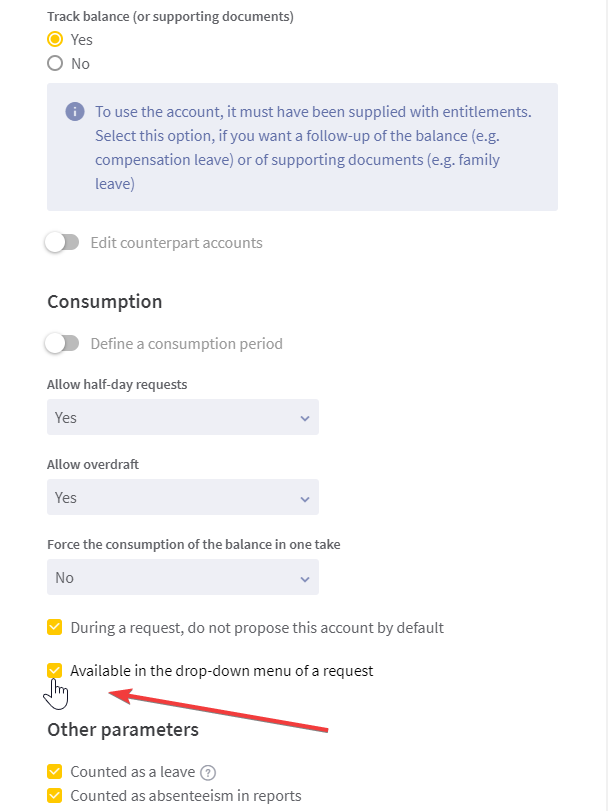 Important: users cannot access accounts configured in calendar dates via the drop-down list.
Why is suggested leave not allocated to the oldest account?
If an account generates a warning during the request, Timmi Absences will not suggest automatic allocation on this account. Two types of warnings are possible: a warning if taking advance leave and a warning if taking leave after the consumption period end date. To manage warnings on an account, go to Configure > Accounts.
An account in my counter table is not available in the allocation tab. Why?
In this case, please refer to the FAQs from this help page: What Information is Shown in the Counter Table?
How do you request leave in hours using Timmi Absences?
To allow leave requests in hours, Timmi Absences needs to know how many hours users work each day.

As an administrator, you must first create a work cycle, which can be found in the Lucca settings cogwheel > Work cycles.
To understand how this module works, please visit this page: Managing a Work Cycle.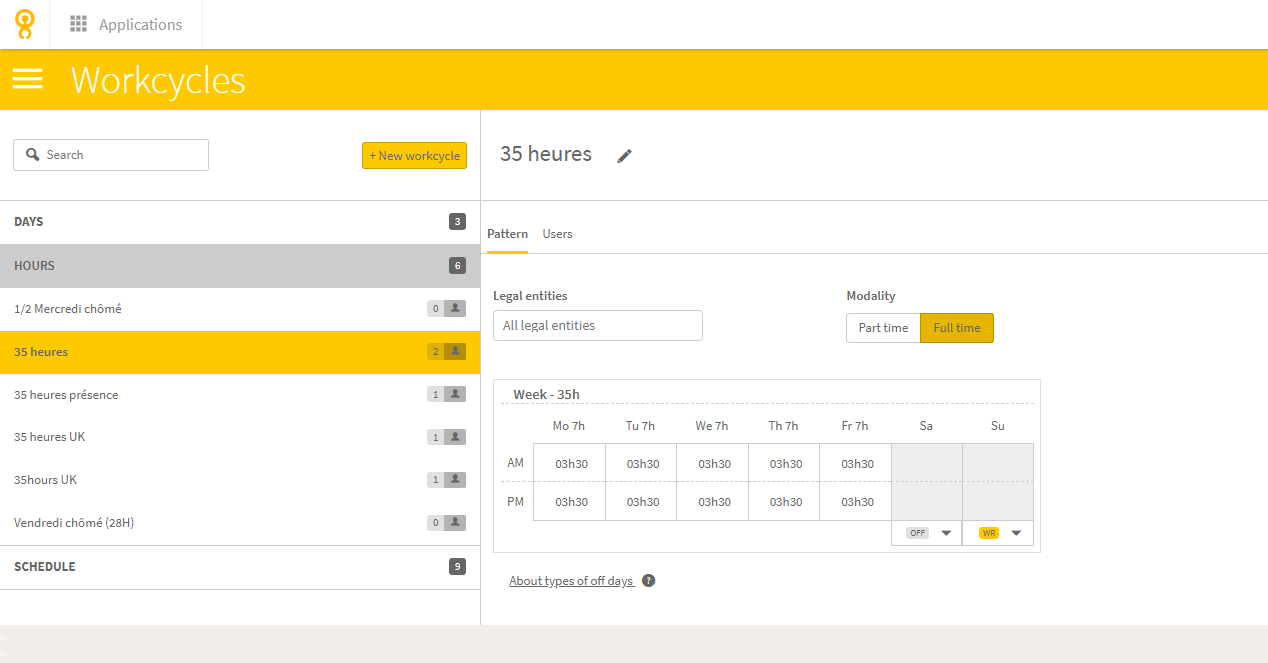 Next, you must assign this work cycle to users in their user file.
If a user cannot request time in hours, you need to check how this option is assigned in: Co-workers > User files.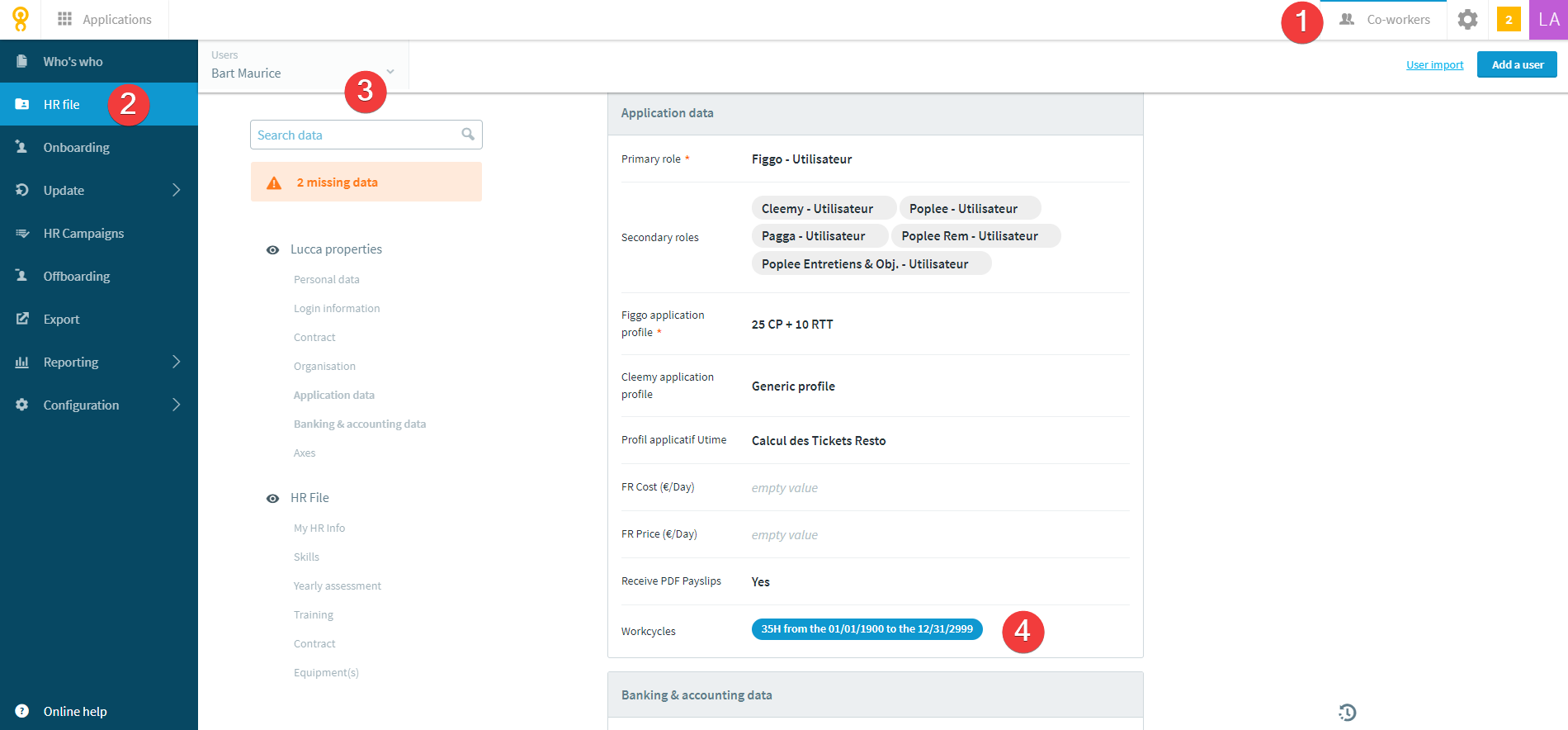 Timmi Absences does not know how to manage multiple requests in hours during the same time slot. This means only one type of leave in hours is permitted per half day. So you need to submit 2 separate leave requests to take 2 types of absences in hours on the same day.
How to block past requests?
To block leave requests in the past from being submitted, go to Configure > Preferences > Parameters. This setting can be configured by legal entity.