Background information
The employee file is the main component of the Lucca platform. This is where you will be able to enter all the details (contract start date, roles for each solution, work cycle, bank details, etc.) for each employee. Without this file, the employee will not be able to access the platform or use the solutions.
Adding a new employee
You must follow the steps described below very carefully. To create a file, go to the 'Co-workers' menu, and then the 'HR file' menu (if you have purchased the Poplee Core HR solution) or 'User files'.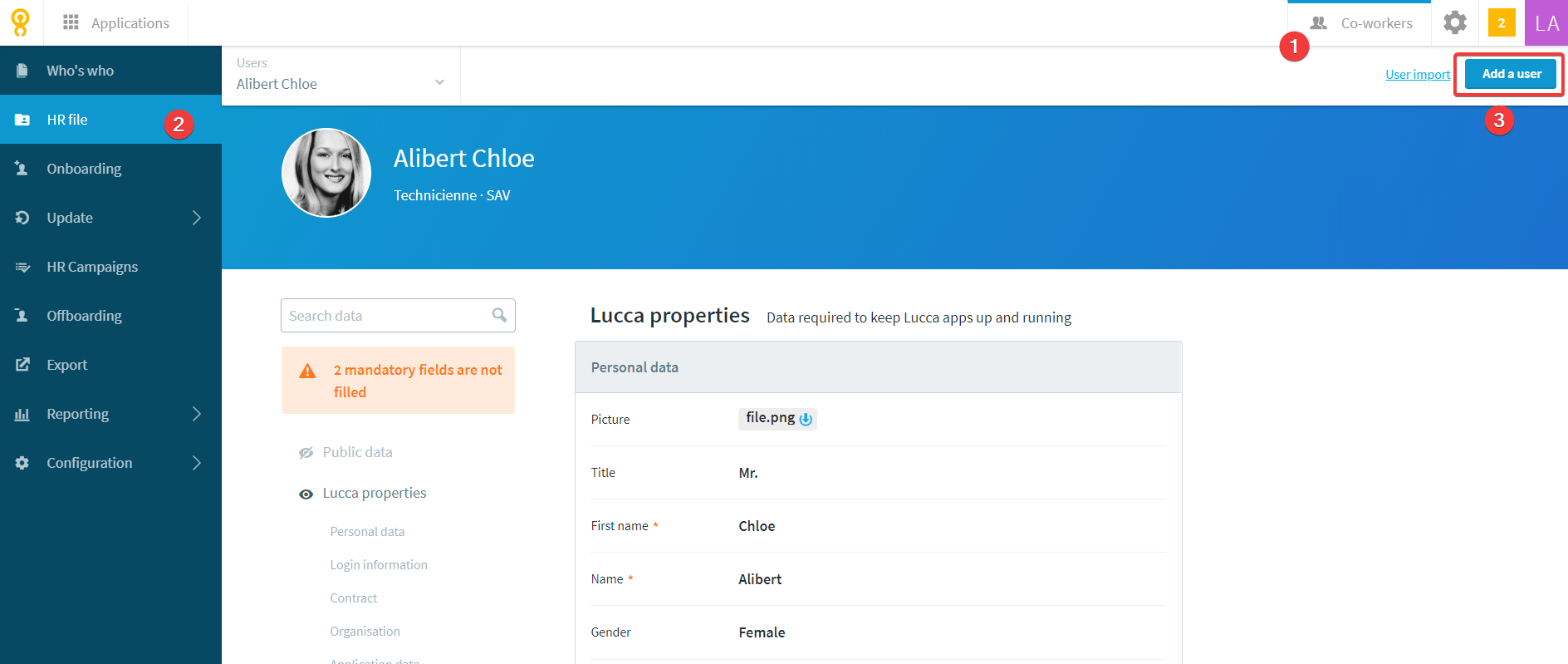 At this stage of the process, after clicking on the 'Add a user' button, a page will open for you to fill in information about the employee (you can do this whether their contract start date has already gone by or is set for the future).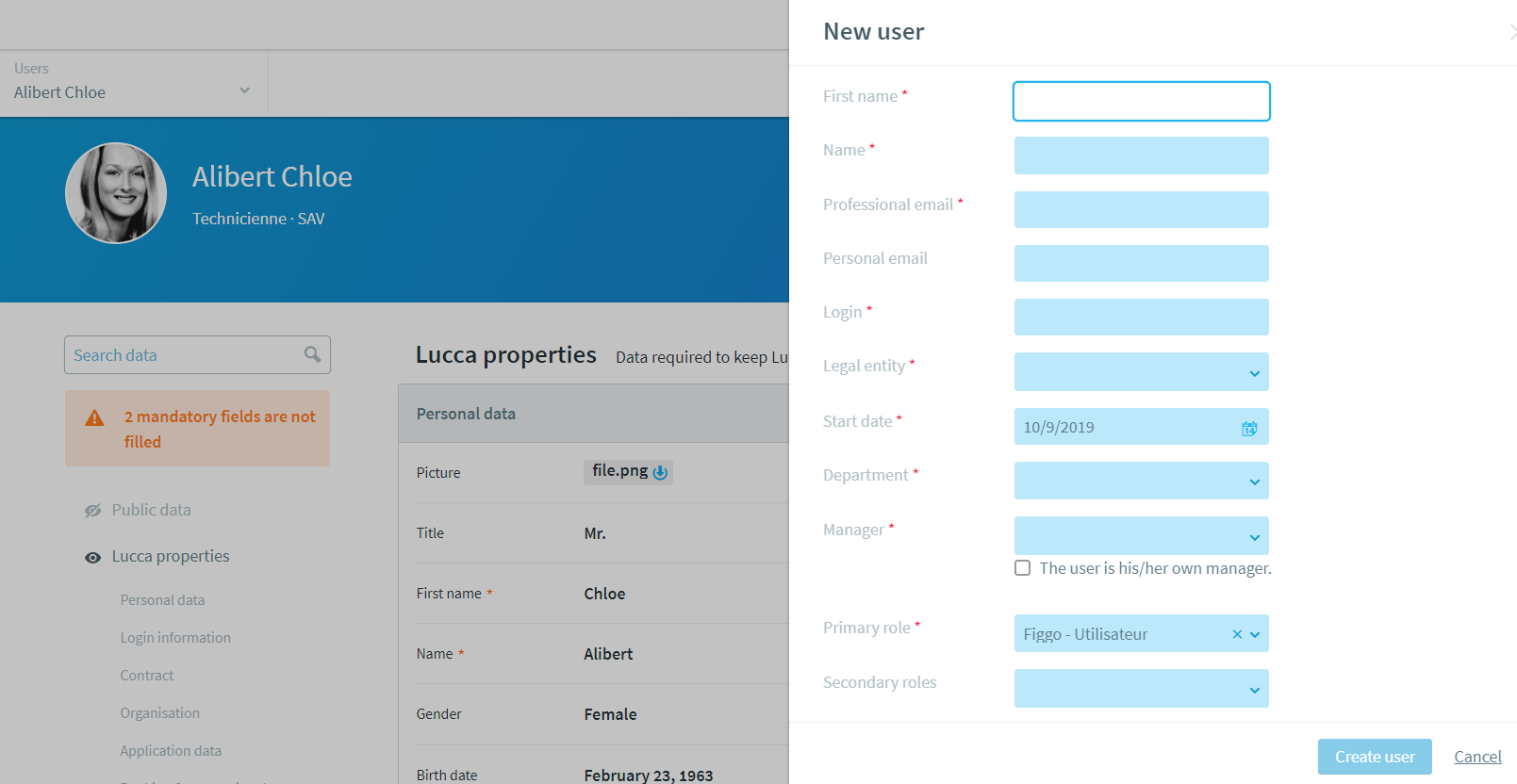 All fields marked with an asterisk are mandatory. You will not be able to add the employee without filling in these fields.
Once all the fields are completed, you will then have the option to inform the employee that their file has been created and provide them with their login name.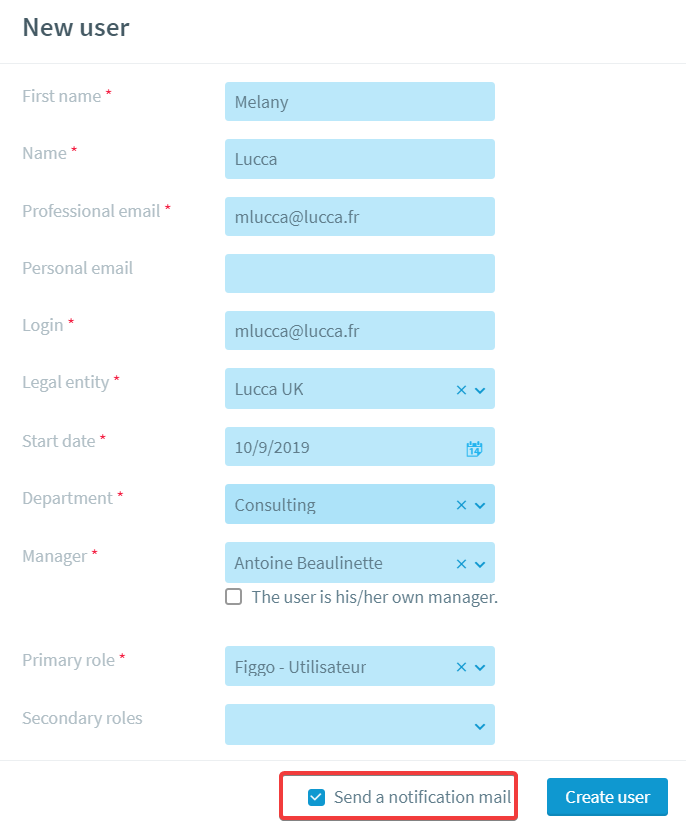 Below is an example of the email that the employee in question would receive. As soon as they receive this notification, they will be able to create their password and will therefore have everything they need to access the platform.
An employee who has not yet joined your company will not be able to log in to the platform until their contract start date. But they can still set their password.
Additional information
When the user is created, you will be redirected to the employee's HR file or their user file (depending on what solution you chose). You will then have to complete the fields required for the solutions to work properly for this employee. You will find some examples below.
For example, if you have Timmi Absences, you must remember to fill in the 'Employee number', 'SPC' or ' Timmi Absences application profile' fields so that entitlements are credited correctly.
For Cleemy Expenses, you will need to fill in bank details (IBAN, BIC) if you decided to process the payment of expense reports by SEPA transfer. Another required field for Cleemy Expenses: application profile. This will identify the different types the employee can access to submit their expense report.
If you purchased Pagga Payslip, our paperless payslip distribution solution, you must fill in the social security number.
Default values
Default values will be suggested in the different fields to save you time when creating employee files (especially you go through intense recruiting periods). These entries can be customised for your company. To enable this option, go to the Settings menu, then Default values.